Monthly Marriage Spark for September: Laughter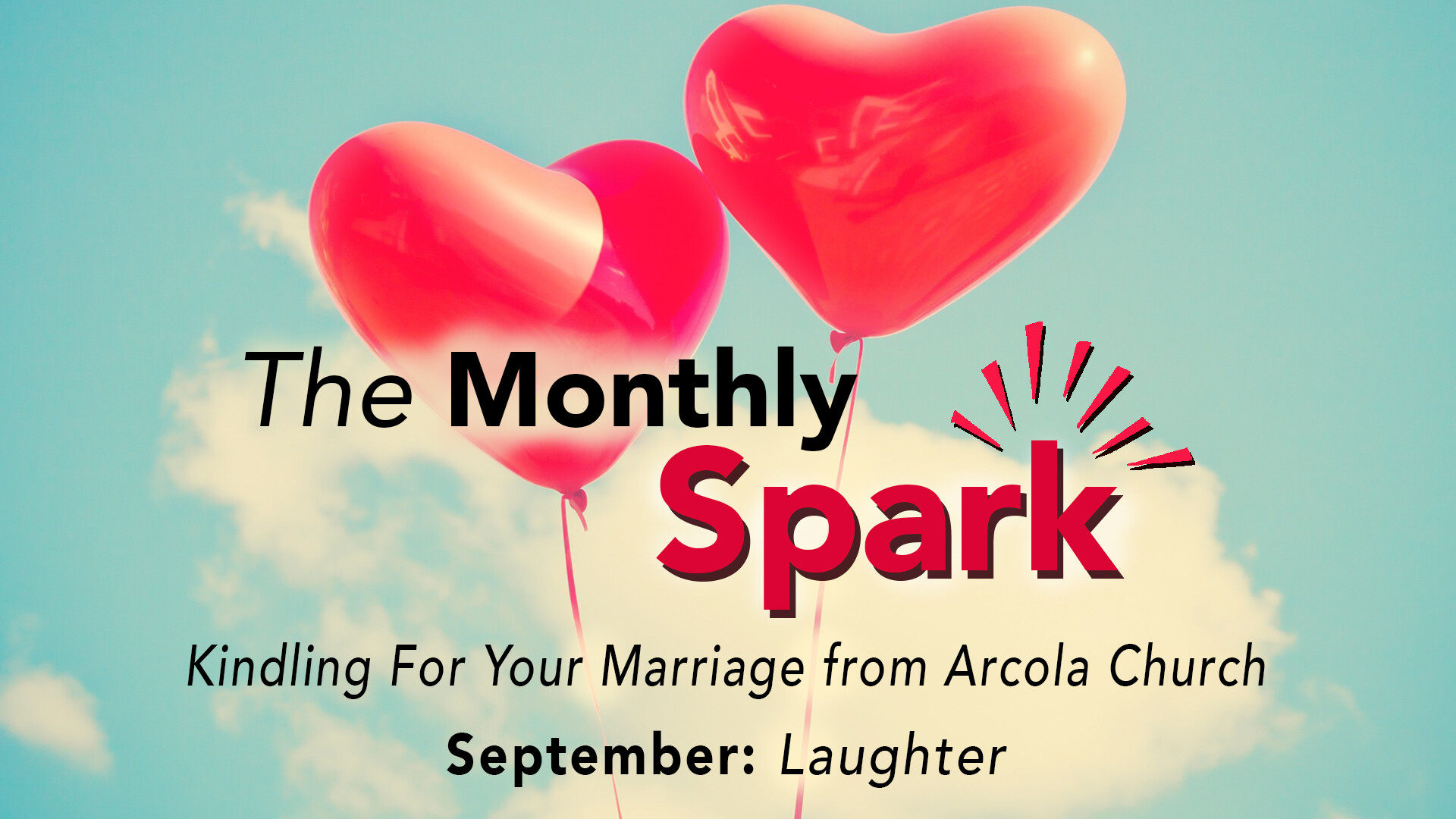 Strengthen your relationship thru LAUGHTER
Does your relationship need a spark? Would you like learn some new ways to reconnect with your partner? The Monthly Spark will help you do just that.
Each month, several items will be listed, such as an article, podcast, book, meditation, exercise, or game, that pertains to relationships or marriages to help rekindle connections. Enjoy! Be curious!! Try something new.
September- LAUGHTER
The more you laugh together, the more you love your partner.
Do you agree with this statement? "We cannot really love anybody with whom we never laugh."
Here are some tips on bringing a daily dose of laughter into your marriage and relationship.
Spark #1: Keep the little things light.
Happy couples laugh a lot. They try to see the humor in what might otherwise be a frustrating situation.
"One day a husband opened the cabinet and realized all the popcorn was gone. At first, he was miffed and told his wife so. The wife laughed and said, 'well you drank all the beer!' And then they both started laughing because- the wife did not drink beer!! Just like that everything was back to normal." Keep the little things light and save the serious arguments for the big things. Talk to your partner about laughing at the small things and how to do that.
Spark #2: Study your spouse's funny bone
One of the reasons many couples never reach their "laughter potential" is because they have never taken humor seriously. Sounds strange, but to bring more laughter into your relationship, you need to know what makes your husband or wife laugh. After all, each of us has a unique sense of humor.
So, your job is to find those things your partner thinks are most funny by paying attention to when he or she laughs.
Can you relate to this story? "I never realized how much Susan laughs at a silly comic strip," a participant at one of our seminars told us. "When you asked us to think about each other's humor styles, it dawned on me that I hardly ever laugh at comics in the paper, but she seems to really enjoy them." This enlightened husband went on to tell us how he was now learning to laugh at comic strips too. He now makes a habit out of reading them and even cuts one out to show Susan from time to time."
Maybe your partner likes a sarcastic wit. Maybe it's slapstick that makes him or her laugh. Or maybe it's the old classic sitcoms like The Andy Griffith Show. Wherever his or her funny bone is located, find it and use it — at least once a day.
https://www.focusonthefamily.com/marriage/bringing-laughter-into-your-marriage/
Spark #3 Put the Laughter back in your marriage.
Share inside jokes. The funny moments and sayings understood between only you and your spouse are a special part of what makes you a couple.
This is a story that sounds familiar: "For the first six months of our marriage, every time my husband left the house, he yelled, "Shut the door!" Strange. After all, he was the one leaving. So, one day I followed him and asked why he was reminding me to shut the door. He looked puzzled, and then it dawned on him: He was actually saying, "Je t'adore" — a French expression meaning "I love you." Now, when we sign a card or leave a note for each other, we write, "Shut the door!" It's our inside joke."
Share with each other some inside jokes or make some up. These are jokes just between the two of you. Your special chuckle.
https://www.focusonthefamily.com/marriage/a-laugh-between-us/
Spark #4: The Newlywed Game: Marriage Retreat- Saturday, October 1, at 5:30- 8:30pm.
Join us for a fun evening playing the Newlywed Game at Arcola church. Registration found on the church website.
A Prayer for Love and Joy and Laughter in Marriage
Dear God, in Your presence we renew our whole-hearted choice to love. Bless this holy commitment with courage, strength, tenacity—and most of all joy and laughter! Amen. - Dr. James Dobson