Celebrating God's Greatness
@ Arcola Church's Vacation Bible School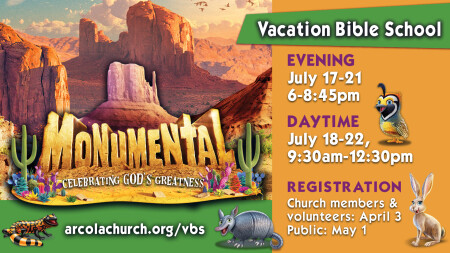 Go off-road for a Monumental adventure through the colorful canyons and sunbaked trails of the southwest. By exploring God's awesomeness, kids form a rock-solid faith for the road ahead.
Each day at Monumental VBS, kids discover the vastness of God's love through station rotations that reinforce relevant Bible Points and point kids' eyes up to a loving, powerful God who is bigger than... well, anything! Stations include Sing and Play Celebration, Imagination Station, KidVid Cinema, Red Rock Rec, and Bible Adventures. Oasis Tastes snacks will be served; children will need to bring their own water bottle each day.