Connect with others in the Church! Sign up for Realm by emailing Chris Slupe.
Arcola Church has a connection tool called Realm. This tool allows invited members to do the following:
Maintain profile info
Set privacy settings*
Access Church directory
Monitor giving/pledge history
Join groups
Find volunteer opportunities
Register for events
Participate in group discussions
Add individual or family photos
Download the Realm Connect App
To get connected to Realm, email Chris Slupe and she will send you an invitation, which is valid for 24 hours.
Once you create your Realm account, you can click on the "?" in the upper right-hand corner and step-by-step instructions for that page will open for you in a separate tab.
*Privacy Settings:
You can choose who can view your contact info – On your "NEWS" page, click on the down arrow next to your name in the right-hand corner. Choose "Manage Privacy" from the drop-down menu. To ensure that members of the church can view your contact information, please select "Anyone" as your privacy setting. If you choose "Anyone" the only information that will show will be your email, phone number, home address and birthdate without the year. (See screenshot below)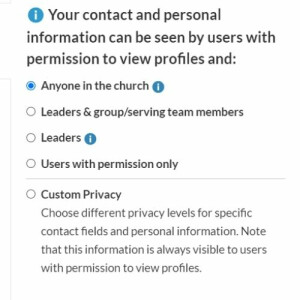 Setting your "Privacy" to either "Leaders & group/serving team members" or "Leaders" will opt you out of the Church directory. The Church Directory is where church members can look up your contact information, i.e., email, address (to possibly send a card) or a phone number.
Customizing Your Privacy - You can also choose different privacy levels for each specific contact fields and personal information.
Note that your contact information is always visible to staff.
Contact info for a child under the age of 18 is protected by Realm. Children's contact information will not be listed on a roster page.