Monthly Marriage Spark for October: Passion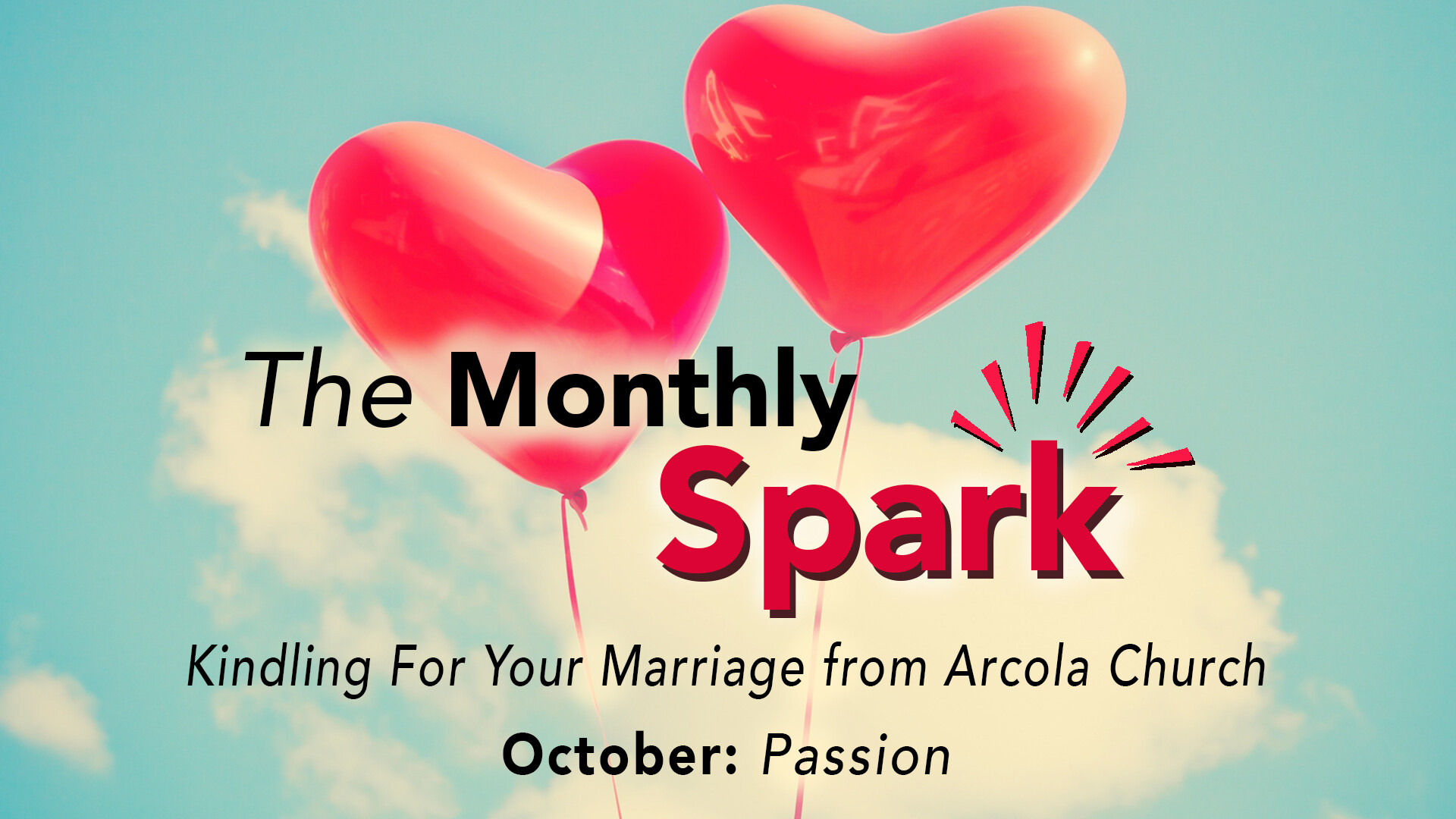 Strengthen your relationship thru PASSION!!
Does your relationship need a spark? Would you like learn some new ways to reconnect with your partner? The Monthly Spark will help you do just that.
Each month, several items will be listed, such as an article, podcast, book, meditation, exercise, or game, that pertains to relationships or marriages to help rekindle connections. Enjoy! Be curious!! Try something new.
Your spouse should be the one person that sets your soul on fire. Do you feel this way: After so many years of friendship, dating, and now marriage, I still feel a little giddy every time I see my husband. Part of it is our natural chemistry. The other part is the huge effort we put towards keeping that passion alive. If you don't feel that same way, here are some ways to re-spark that passion.
Spark #1: Why is Passion in a Relationship Important?
Tony Robbins writes "Passion in a relationship contributes to greater fulfillment – both in and out of the bedroom – as well as happiness and well-being. It can even predict relationship success. The quality of your life equals the quality of your relationships."
Wouldn't you rather have a deep, passionate love than something that feels more like friendship? While companionate love is also important to a successful, long-term partnership, the bottom line is that life is too short to live a single moment without passion – especially in your relationship.
What are the signs of passionate love? A few are listed below, see where you fit in:
You feel like you're on top of the world whenever you're with them.
You tell them things you normally wouldn't share with anyone else, not even your friends.
You're willing to be spontaneous and reckless with them.
You're on a constant high of emotions and you don't believe it will ever end.
You show a lot of affection towards one another – both in public and private.
You feel like your relationship couldn't possibly get any better than this.
You're feeling an obvious spark or chemistry between you.
You have so much fun together.
Tony Robbins has a website on the Ultimate Relationship and has some good ideas on how to create more passion with your partner. See the link below with your partner.
https://www.tonyrobbins.com/ultimate-relationship-guide/passionate-relationship/
Spark #2: Ways to rekindle the passion in your relationship
Terry Gaspard explains, "A good sexual relationship is built on emotional intimacy and closeness. In other words, if you're hoping to improve your physical relationship, you need to first work on your emotional connection. Focus on meeting your partner's needs and communicating your own needs in a loving, respectful way."
In The Science of Trust, Dr. Gottman explains that couples who want to rekindle their passion and love need to turn towards each other. Practicing emotional attunement can help you stay connected even when you disagree. This means turning toward one another by showing empathy, instead of being defensive. Both partners need to talk about their feelings in terms of positive need, instead of what they do not need.
Holding hands more often is one way to bring back that passion. There are nine more found in the link below. Talk about these with your partner and see if any work for you.
Here are 10 tips to bring back the passion in your marriage: https://www.gottman.com/blog/10-ways-rekindle-passion-marriage/
Spark #3 What does the bible say about having passion in your relationship?
Celine Rice writes that Passion is important because it helps us achieve our goals. When we are passionate about something, we are more likely to stick with it even when things get tough. And when we have a passion for God, it means that we want to please Him and obey His commands. Eventually, we will see the fruits of our labor and be rewarded for our dedication. And when we all pursue our passions, it makes the world a better place.
When we have a passion for something, it means that we are willing to put forth the effort to make it happen. We are not just going through the motions (of a happy marriage); we are really striving to accomplish a purposeful and connecting relationship. And when we have a passion for God, it means that we want to please Him and obey His commands.
Passion is something that should be evident in our lives. It should be something that other people can see. And when they see our passion, it should make them want to know more about God.
Look at this link with your partner and talk about which bible verses speak to you about passion and how to create a richer relationship.
https://inspiringtips.com/kjv-bible-verses-passion/
A Prayer for a Passionate Relationship
Dear God, we lay our relationship before you and thank you for sending your Holy Spirit to be with us as we journey together. We ask that you bless our union, help us to find passion in our relationship and to help us to keep the roots of our love firmly reaching into the depths of your goodness. Amen