Monthly Marriage Spark for November: Perspective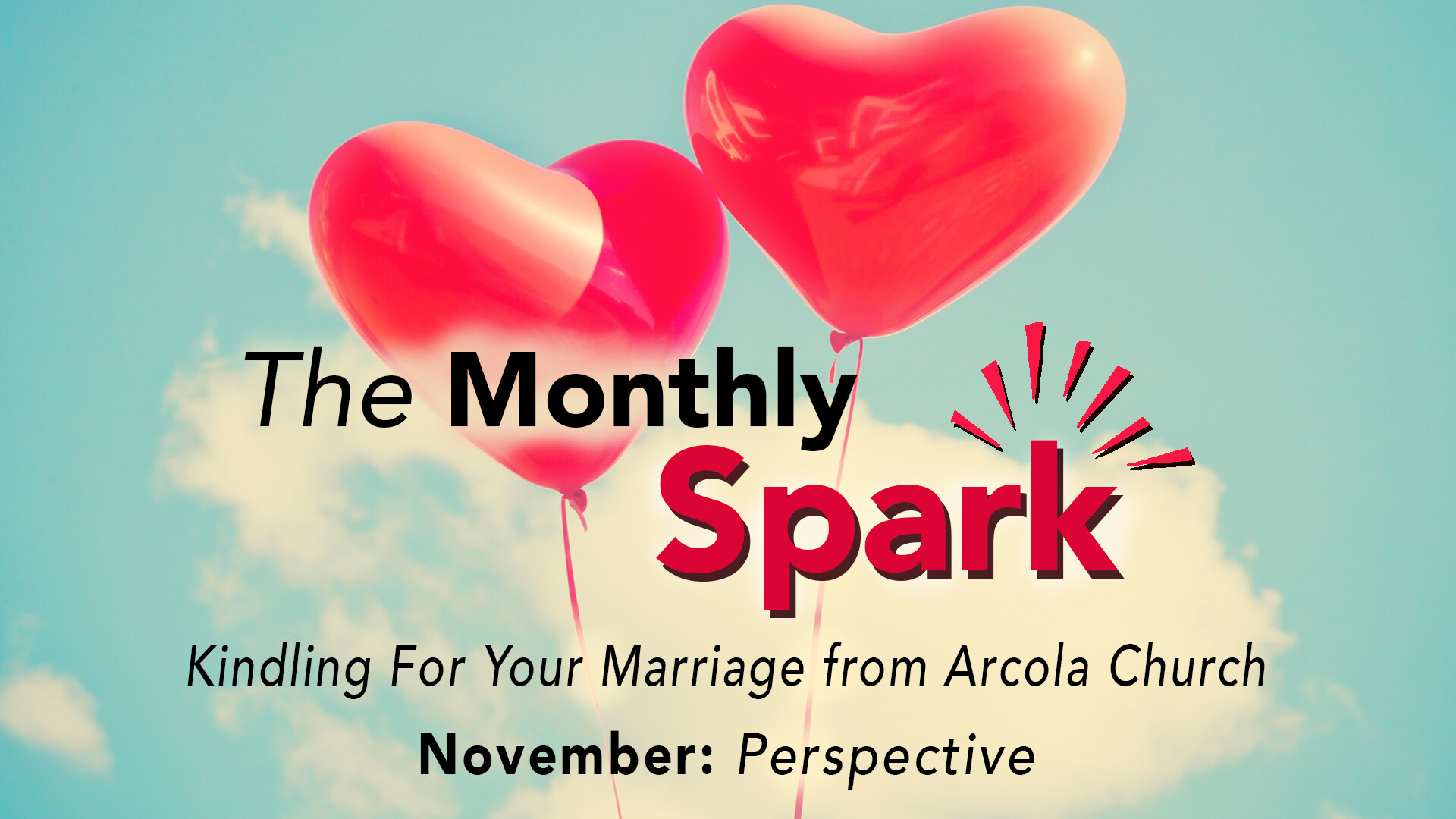 Strengthen your relationship thru PERSPECTIVE
Does your relationship need a spark? Would you like learn some new ways to reconnect with your partner? The Monthly Spark will help you do just that.
Each month, several items will be listed, such as an article, podcast, book, meditation, exercise, or game, that pertains to relationships or marriages to help rekindle connections. Enjoy! Be curious!! Try something new.
We are conditioned to believe the grass is always greener on the other side. But every marriage, even happy ones, have little pitfalls and hard times. Remember: just because you have a bad day doesn't mean you have a bad marriage.
Spark #1: WHY IS PERSPECTIVE IN A RELATIONSHIP IMPORTANT?
This is a great article on Perspectives in Marriage Conflict by Cindy Wright.
Cindy states "they say there are two perspectives to every situation that happens. But I believe there's actually three perspectives, as it pertains to marriage conflict. There's his, hers, and God's —in other words, what REALLY happened.
Ultimately, it takes a willingness on both the husband's and wife's parts, to work through those perspectives to find a way to build relationship bridges, rather than walls dividing them. I have no doubt in my mind that this is what God wants us to do, so we're relating to each other from His perspective, rather than ours.
I heard it once said that if we strive to seek the Light, rather than striving to be right, a lot of our problems will resolve themselves."
So, in my readings, I came across two articles. Each article gives different perspectives to the problems this husband and wife were having with each other. I thought you might learn something from reading both of their perspectives. I hope you will read and learn something helpful. So here goes:
Read the following articles with your partner and talk about the different perspectives and if you can relate.
https://marriagemissions.com/perspectives-marriage-conflict/
Spark #2: Five Truths that give Perspective in Marriage... By Tony Peters

How to Build a Rock Solid Marriage
Here are five truths that Tony Peters teaches people to help them see some aspects of their married life in perspective. He states that if you embrace them and let them form the grid through which you evaluate the ups and downs of your marriage, you will not go wrong.
Here is a list of the five truths; the article goes into more detail.
You live in a broken world and people are not perfect.
The challenges you face in your relationship are there to make you and your marriage stronger.
No effort you put into preparing yourself for the marriage you want is
wasted.
Great marriages are made on earth, not in heaven.
You are equipped to succeed in any Godly endeavor you embark upon.
Read this article and talk to your partner about these five truths- do you agree or disagree?
https://www.rocksolidmarriages.com/5-truths-that-give-perspective-in-marriage.html
Spark #3 Principles of Perspective and how to keep your relationship successful.
This is a podcast that gives some ideas as to how to build a happy marriage/ relationship.
There are five big ideas that the authors hold true to. These non-negotiable principles have given them immense intimacy, power, and love to create that flow they will be talking about.
Always tell the truth to each other
Always listen to what the other person has to say
Eliminate criticism from your relationship
Eliminate bracing for the victim position when arguments come up
Live in thankfulness and appreciation
Listen to this podcast and talk to your partner about whether you agree or disagree, and if there are any changes that can be made to your relationship.
https://bigleappodcast.com/episode-59-build-a-happy-successful-marriage/
A Prayer for Perspective in a Relationship
By JB and Shugie Collingsworth
"If you're struggling in your marriage or relationship, be willing to take action. Do the right thing, believing God all the way. When your strength is depleted, remember He has promised to give you His strength. Search His Word. Humble yourself and be willing to do the right thing. What have you got to lose? What have you got to gain?"
Ecclesiastes 4:12 says, "Though one may be overpowered, two can defend themselves. A cord of three strands is not quickly broken."