Monthly Marriage Spark for February: Spontaneity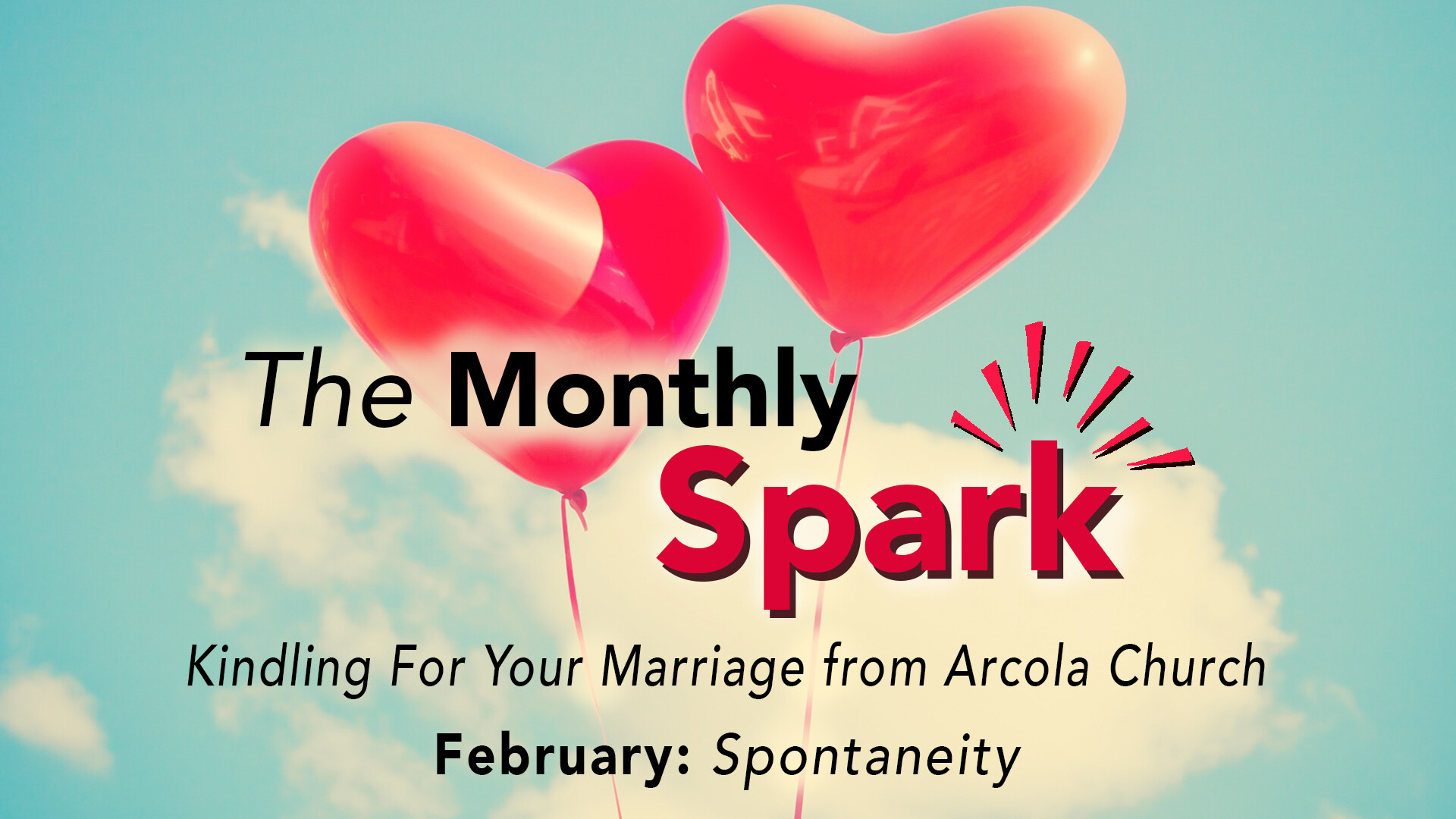 Strengthen your relationship thru SPONTANEITY.
Does your relationship need a spark? Would you like to learn some new ways to reconnect with your partner? The Monthly Spark will help you do just that.
Each month, several items will be listed, such as an article, podcast, book, meditation, exercise, or game, that pertains to relationships or marriages to help rekindle connections. Enjoy! Be curious!! Try something new.
As the years go by, most couples fall into routines that rarely change. That's just life! But it's so important to keep things interesting in your marriage. Pick a random spot on the map and take a road trip. Make a candlelit dinner at home. Leave a note in his lunchbox. Try something a little outside of your comfort zone in the bedroom. You might just have fun!
Spark #1: Why is spontaneity in a relationship important?
Those that are spontaneous tend to be more flexible and relaxed and ultimately happier with their lives. They can look at every situation and pull the good from it to put a positive spin on things. This positive outlook helps us all press on towards the next big thing.
The obvious benefits of spontaneity
Your life is going to be more interesting. The best way to avoid daily rut and boredom is doing spontaneous actions every day. Only a few of them would be enough to spice up your day.
Spontaneous actions will make your mind sharp and alert. New people and situations in our life trigger activation of our grey cells, unlike the usual, habitual activities that we handle very often automatically.
It lowers stress. By having new situations in your life every day, you are in fact training your stress muscles. That way, when big challenges arise in your life, you will handle them with less ease.
https://medium.com/illumination/3-important-reasons-you-should-be-more-spontaneous-a8be1ac68537
Spark #2: How do you show some spontaneity in a relationship?
When spontaneous is used to describe a person, it means they have a tendency to or are known for doing things impulsively and without planning. This is usually used in a positive way to portray them as a fun person who is adventurous and willing to do things on the spur of the moment.
How To Be More Spontaneous
Think a little less and live a little more. Are you making the most of your life?
Having a healthy amount of spontaneity in life is a necessary ingredient required to keep things exciting.
Here are some ways to be more spontaneous is:
Trust your feelings and let your gut rule rather than you head.
Say what you need to say.
There is no perfect time. Waiting for that perfect time is usually going to result in nothing but that, waiting.
For more ways to work on your spontaneity look at this article:
https://forge.medium.com/how-to-be-more-spontaneous-748030a07320
Spark #3: Surprise your partner and register for the Marriage Celebration at Arcola UMC on Feb 11th Saturday. This would really surprise them and a great way to celebrate Valentine's Day!!
Come and enjoy an evening out with other couples by eating great food, laughing and sharing stories with others. Invite your other friends to join you.
Here is the link: https://arcolachurch.org/event/8639489-2023-02-11-marriage-celebration/
Prayer
Lord, thank you for the blessing of marriage, For the love of my partner and the joy of friendship. Thank you for the security of our commitment to one another, And the comfort of our trust. Please bless our relationship today with love and tenderness. Help us to support and care for one another. Lord, come lead us now by your Spirit. In Jesus name. Amen.

Psalm 20: 4
May he give you the desire of your heart and make all your plans succeed.