Sunday Schedule this Fall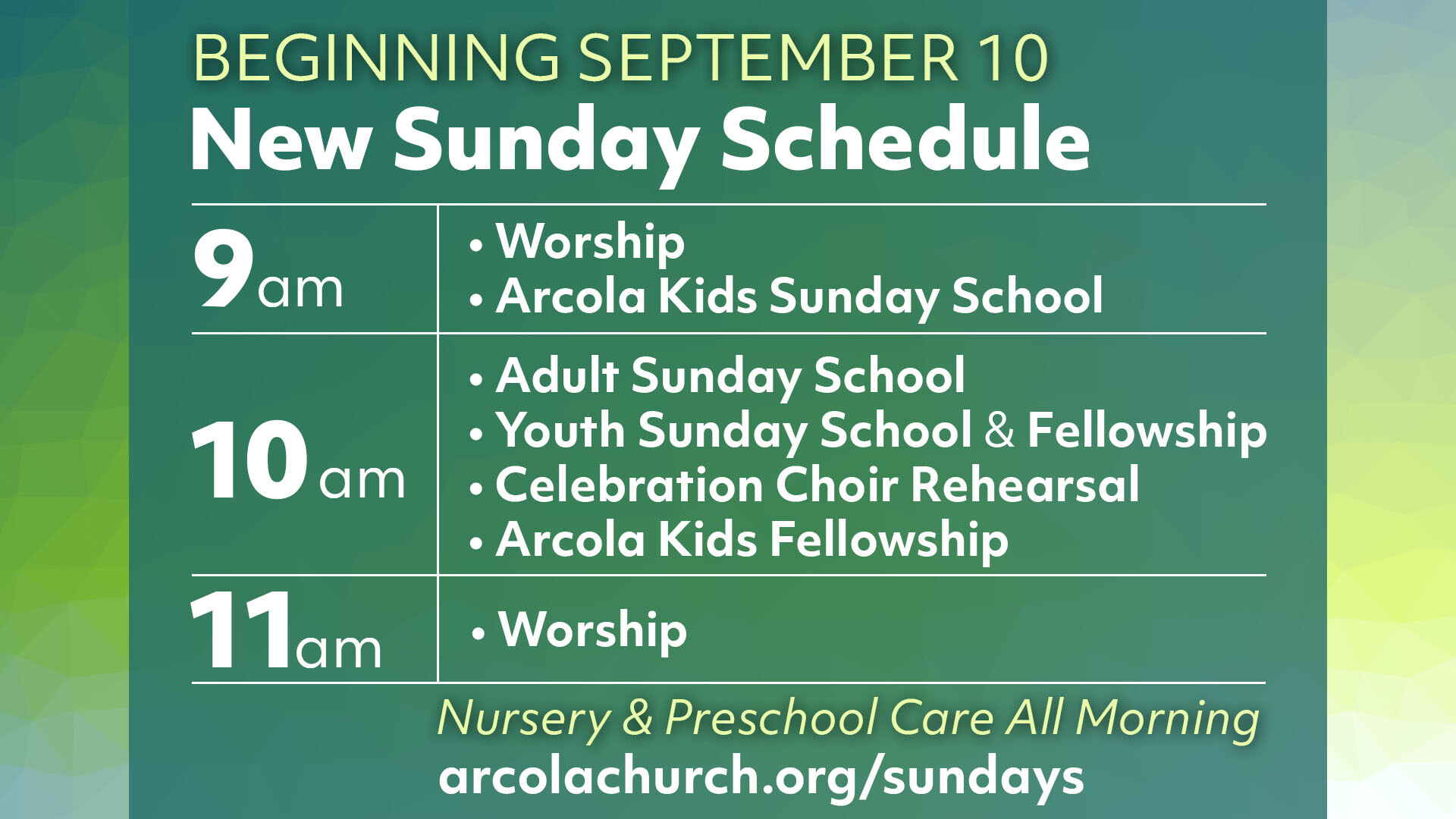 9am
Worship

Our Joyful Noise Praise Band leads this worship service, with appearances by our handbell groups and kids' Celebration Choir; the Bible reading and message you'll hear from Pastor Chris are the same between the two worship services.

Arcola Kids Sunday School

K-4 children will sing songs, craft, play games, and read Bible stories in their own kid-centric spaces!


Grades K-2 in Room 107
Grades 3-4 in Ruth Hall

5th Grade Bible Group: Traditionally held over a handful of Sundays in the spring, 5th Grade Bible Group is now a school year-long Sunday School group! There will be fun and Bible learning all rolled into one for these big kids. They meet in the Conference Room.
Sign Up Here
10am
Adult Sunday School

Dive deeper into Bible stories through discussion and teaching with Pastor Chris in the Conference Room.

Youth Sunday School & Fellowship

Teens and tweens (middle and high school) gather in their own space to learn about God's love for them, talk with each other, and have some fun too!

Celebration Choir Rehearsal

K-5 Grade kids are invited to join Celebration Choir, where during weekly rehearsals they'll learn singing skills, laugh a LOT, and prepare to sing in worship once per month. Contact Rachel Gray for more details!

Arcola Kids Fellowship

Kids care for grades K-5 during the Sunday School hour includes games, crafts, and more!
11am
Worship

Our Alleluia Choir leads this worship service, with appearances by our handbell groups and Joy Collective Youth Praise Team; the Bible reading and message you'll hear from Pastor Chris are the same between the two worship services.
Nursery & Preschool Care All Morning
Care for our littlest disciples is available all morning - ask a greeter for directions when you arrive!


Preschoolers: Room 106 at 9am and 11am, Room 104 at 10am

Infants - Age 3 are in Room 104 at 9, 10 and 11am.
Sunday Music and Dance Rehearsals
Faith Ringers: for ringers 6th grade to adult who are learning the basics of ringing. 12:15-1:15pm in the Handbell Room
Elevation Dance Ensemble: For upper elementary kids through adults who love to praise God through movement! 12:15-1pm in Ruth Hall