Dates with a Purpose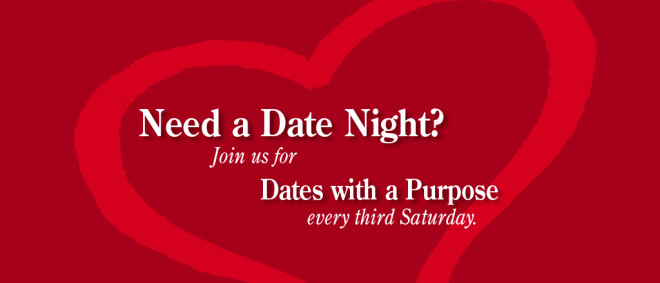 Third Saturday of the month, 6:00 PM - 8:30 PM
Get more out of date night by making it a Date With a Purpose! Start your date out at Arcola Church by attending a quick 20 minute lesson on how to deepen your relationship as a couple. You'll also receive some conversation topics to guide your date. The rest of the evening is yours! Go to dinner, get coffee, or just find a quiet place to sit and spend time sharing your thoughts and exploring your relationship. Dates with a Purpose is for couples of all ages and life stages!
Childcare is available and donations are accepted at the door or payable online. All childcare requests must be requested by 5pm the Thursday before each monthly event. Childcare drop-off begins at 5:45pm and pick-up is by 8:30pm. Reminder, Arcola Church is nut-free -- to learn more, review the Arcola Church Nut Policy.
lf you need to cancel, please send an email to Gina Latorre, childcare coordinator and Stephanie Ryan.