Camel Lot Children and Youth Christmas Musical - 9am Worship Service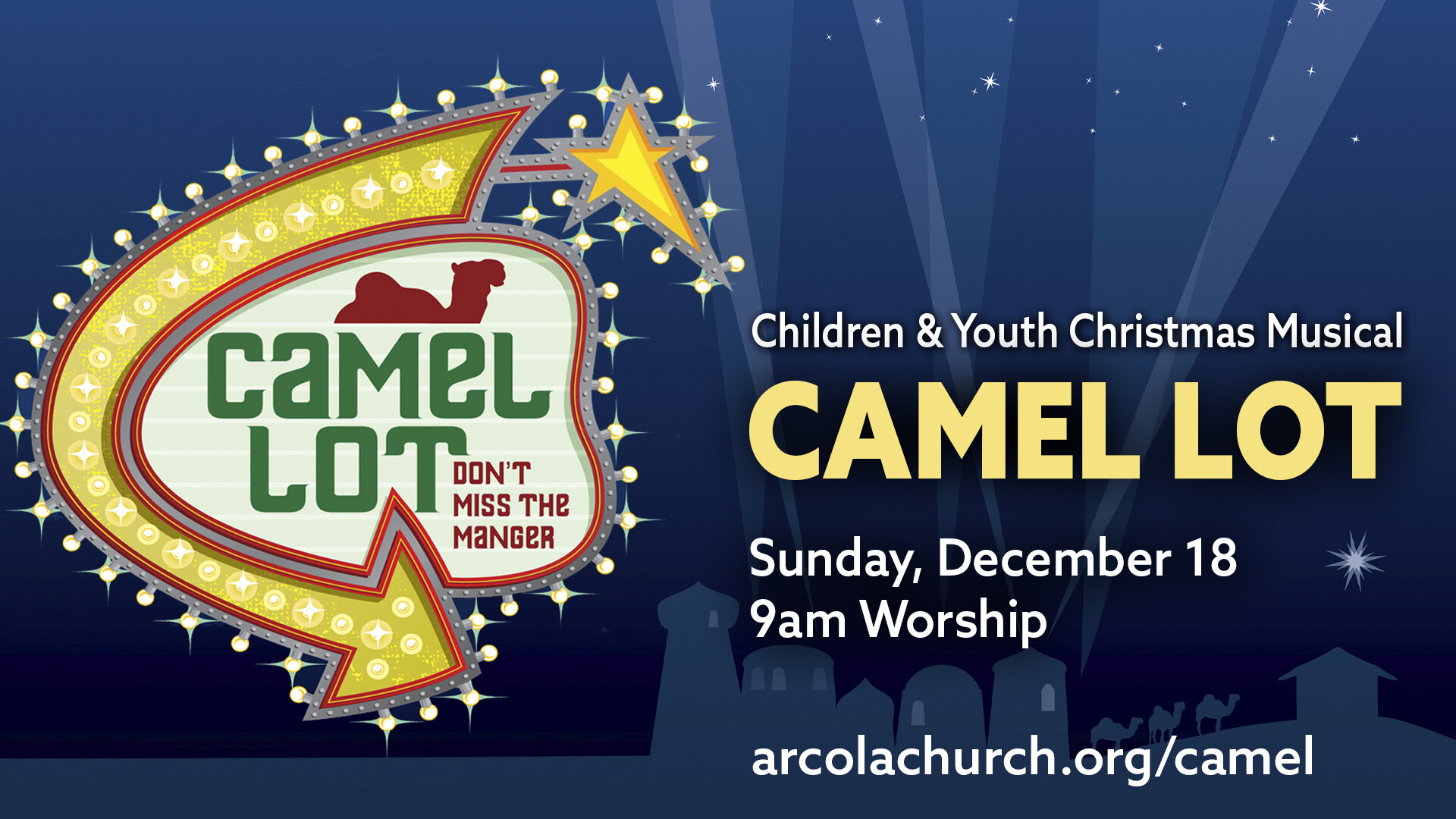 Our youth and children (K-10th Grade) are going on a journey to the manger - by camel! You're invited to sing and dance along with the cast as they take you to the Camel Lot on a very special night in Bethlehem. And remember, through it all, don't miss the manger!
Camel Lot
~Scene 1~
Song: Camel Lot
~Scene 2~
Song: We've Got a Camel for You
~Scene 3~
Song: Good News
Soloists: Morgan Holleran & Chloe Connors
Ensemble: Chloe Connors, Morgan Holleran, Adrianna Kurtyka, Anna Pritchett & Peyton Pritchett
~Scene 4~
Song: No Silent Night
Soloists – Emilyn Porter & Brooke Holleran
~Scene 5~
Song: Follow the Star
Soloists – Peyton Pritchett & Abby Kamon
~Scene 6 & 7~
Song: Don't Miss the Manger
Soloist – Lyla Meer
~Scene 8~
Song: Bethlehem Medley
Song: Joy to the World!
~Scene 9~
Curtain Call
Camel Lot Cast and Crew

Barnabas/Dad:

Rae Creppon

Wiseman 1:

Makenzie Kofchak

Lydia: Chloe Connors
Wiseman 2: Julia Jacoby

Beth: Abby Kamon
Wiseman 3: Aryan Biswas

Brittany: Adriana Kurtyka
Shopper Mom: Claire Mathurin

Jonathan: Sam Jacoby
Shopper Daughter: Emilyn Porter

Martha: Morgan Holleran
Lady Shopper: Sharon Nicole Prasad
Sarah: Hannah Chapin
Cowgirl: Evie Chapin

Rich Man: Luke Meer

Mary:

Hannah West

Rich Woman: Peyton Pritchett

Joseph: Jack Phillips

Deborah: Ella West

Ruth: Brooke Holleran

Jamie Sue: Anna Pritchett

Camels: Jon Holleran, Kyle Kurtyka, Greg Mathurin, Victor Meer, Cecil Porter, Cale Pritchett

Ensemble: Addison Blaine, Campbell Caldrone, Katherin Choma, Ellie Fabian, Olivia Kearse, Stella Kearse, Gavin Kurtyka, Avery Link, Ananya Manne, Kevin Manne, Zoe Mathurin, Leah Meer, Lena Meer, Lily Phillips, Lily Kate Rosner, Stella Salter, Adelaide Sigsbury, Eloise Sigsbury, Olivia Vlasic, Samuel Wuthnow, Thomas Wuthnow

Minister of Worship & Arts: Tianna Durbin
Director: Deb Porter
Music Directors: Jenn Roberts & Rachel Gray
Choreography: Jennifer O'Reily
Audio Visual: Chris Durbin
Costumes: Rebecca Simmons
Production Assistant: Carole Salgado
Cast Features
Rae Creppon - Barnabas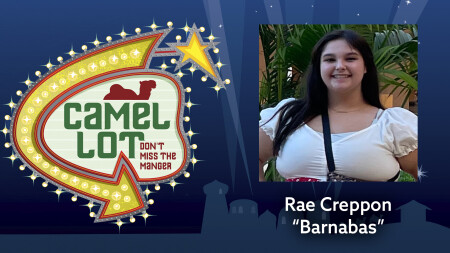 My name is Rae Creppon; I play Barnabas, I'm 15 years old, and a current Freshman in High School. My favorite part of Christmas is getting to spend time with family who I may not see year round, and getting to give people presents! My favorite part of the show is definitely when Beth wakes up from the dream and is talking to her dad (Barnabas) about closing up the car lot, but she accidentally says camel lot - or the dancing!

Adriana Kurtyka - Brittany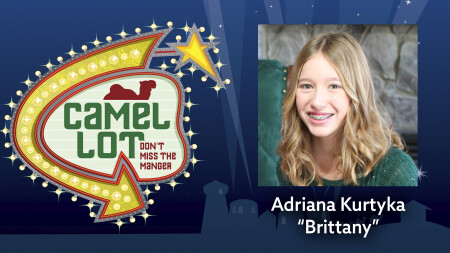 My name is Adriana Kurtyka, I'm 11 years old and in 6th grade. My favorite part of Christmas is the entire Christmas season. It's the decorations, the music, all the preparations and the spirit that you feel leading up to the day that I love. My favorite part of the show is a certain "surprise" during one of our songs… don't want to spoil anything!
Sam Jacoby - Jonathan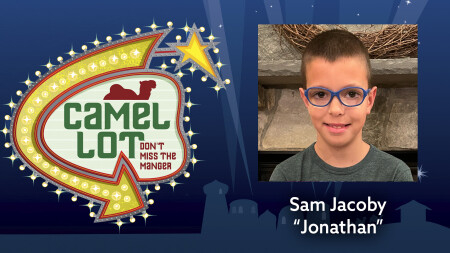 My name is Sam Jacoby, I'm 9 years old, and in the 4th grade. My favorite part of Christmas is giving and receiving presents, and my favorite part of the show is my (Jonathan's) funny line at the end!