Summer in the Arts Evening Camp for Adults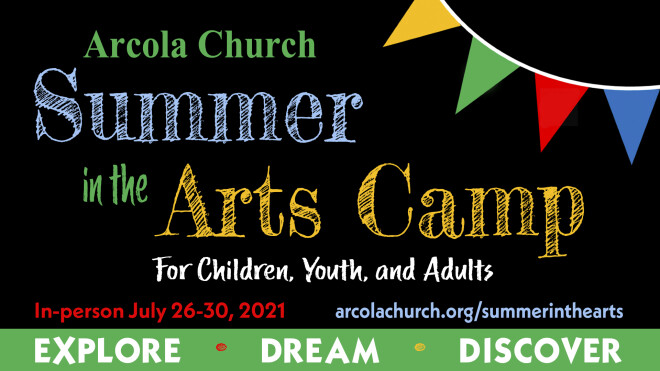 Daily, from 07/26/2021 to 07/30/2021, 6:00 PM - 8:00 PM
Our newest camp for adults who have always wanted to explore or grow artistic skills in art, singing, or learning to play an instrument. Class offerings include art, beginning/intermediate guitar, Everyone Can Sing, Basic Music Theory, The History of Music in the Church, and more!
Hear from last year's students about their experience!
Classes
Acrylics Academy **Virtual Class on Zoom**
Four, two-hour classes - this class may not be combined with any other class because of the number of hours, and is $60 to attend on its own (an amazing price for a 4 night painting course!)
Unlock that hidden artist inside you during these 4 fun easy classes! Our art academy will include: exploring basic art theories about color and mixing colors, shading and light source, how to create different textures with acrylic paints, and finish a painting on a 8x10 canvas. I will provide you with the paints, brushes, canvas, and an art journal so you may refer back to the art exercises and keep practicing what you've learned on your own. The goal of this class is to start you in acrylic painting and see if this sparks the inner artist in you. Come join in the fun, you'll never know where it will lead to.
Cello for the Adult Beginner
Designed for adults with no prior experience on a stringed instrument, this class will provide an exploratory session on playing the cello. In addition, we will listen to and learn about some of the most beautiful works composed for cello. Instruments will be provided. Sponsored in part by Day Violins
Beginning Guitar
A course designed to learn the basics of guitar playing including basic chords. Supplemental materials will be provided throughout the week of camp so that students can continue to work on guitar technique after camp week!
Intermediate Guitar
This course assumes that participants have some prior knowledge and experience on guitar and knows basic chord structures. Students will learn how to compose simple short songs and will also receive supplemental materials to continue building upon after camp week.
Everyone Can Sing!
This is a class offered to those interested in learning the basics of singing along with learning basic music theory. By participating in this class, students will gain more confidence within their community, church or school choirs. Participants will learn to sight-sing basic musical patterns by the end of camp!
The History of Music in the Church
A popular request by those who are interested in learning more about how music in the church evolved. This course will start from the beginning and listen to what the music sounded and looked like in the early church, how it progressed, what the challenges have been, and how we got to where we are today.