No Sale Yard Sale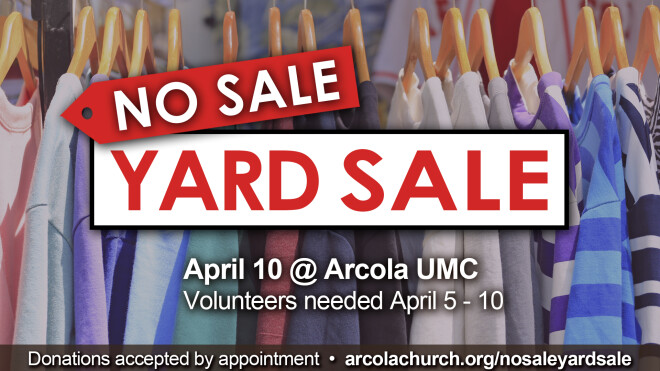 Saturday, April 10, 2021, 8:00 AM - 11:00 AM
Arcola Church will be hosting a "No-Sale Yard Sale" at our church to benefit families supported by the parent liaisons at six local schools. Parent liaisons will invite families to come and "shop" for items they need, but at no charge. We need your support – not only through donations, but also volunteering – to make this event a success.
Donated items will focus on spring and summer clothes, household items and toys. Must be clean, free of stains, tears, or holes. Donations will be accepted by appointment.
Volunteer opportunities include helping with set-up, picking up items and sorting for those that can't get out, lending tables and clothing racks, helping during the event, and helping with clean-up.
Numerous health and safety precautions are being taken, including social distancing, mask wearing, limited people in the building, and appointment-based donation sorting and shopping.
Click here to sign up for donation drop off and volunteer opportunities.
Contact Carole Salgado with questions.