Trunk or Treat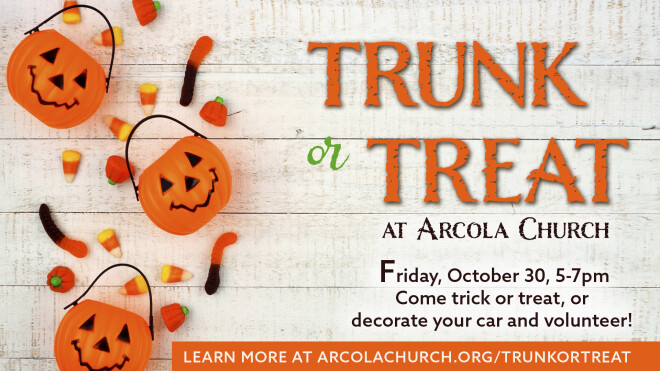 Friday, October 30, 2020, 5:00 PM - 7:00 PM
Our festive family event will be held in the large open areas and parking lot in front of the worship center. Your whole family is invited to wear costumes and children must bring their own treat bags. The event will run 5–7 p.m. Friday, October 30, 2020, with four 30 minutes blocks of time to space the arrival and departure times of attendees. Family groups will travel along our trunk or treat path and visit the various vehicle trunk stations for socially distanced treats!
Space is limited and you must register to attend the event: https://www.signupgenius.com/go/9040e4faaac2ba46-trunk1

This will also be our November Sunday School "At Home Pack" pick up event.

Please read and follow our health and safety guidelines to make this a fun and safe event for all:
Please walk socially distanced 6 ft apart from non-household members.
This is not a drop off event, children must stay with adult guardians at all times.
Everyone must wear face coverings that cover the mouth and nose - costume masks typically have nose and mouth holes, so plan accordingly. You may have to wear a face covering that covers both the mouth and nose under a costume mask.
All pedestrian traffic will be one way.
Attendees will be asked to affirm they do not violate any health details before being allowed into the trunk or treat path.
There will be no open food served and participants will not be allowed to consume treats on church grounds.
The church building is closed and bathrooms will not be available.
In case of inclement weather, a church-wide email will be sent prior to start time stating the event may be postponed to Saturday, October 31 or cancelled.
We still need a few more volunteers to host a decorated trunk, work costumed crowd control or help with set up and clean up. Please visit this sign up to volunteer: https://www.signupgenius.com/go/9040e4faaac2ba46-trunk
Questions? Email Anne Moriak