Dave Ramsey's Financial Peace University Virtual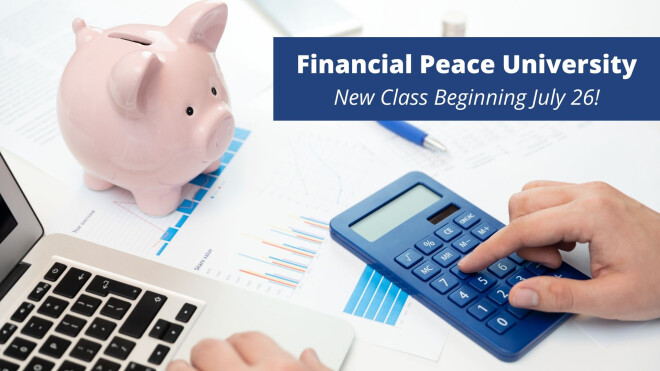 Every Sunday, from 07/26/2020 to 09/20/2020, 7:30 PM - 8:30 PM
"Lesson 9 of FPU (Outrageous Generosity) really touched me - when Dave brings it altogether. We were made in God's image, and He is outrageously generous (giving us His Only Son). I've been working on my own generosity for a long time, and it hasn't come easy for me like it does for some. FPU shed a different light on giving and how much fun it is! Of course, getting our financial house in order makes giving possible."

~Betsy West, FPU Alumna and Course Leader
Financial Peace University is a nine-lesson, money-management class taught by Dave Ramsey. Dave and his teaching team will walk you through the basics of budgeting, dumping debt, planning for the future, and much more through the lens of the Bible.
First-hand Testimony from Mark and Giao Brewer on the impact of the course!
This 9 week course runs July 26-September 20 starting at 7:30pm. Participants will watch the video lessons on their own prior to a weekly 30-60 minute small group discussion via Zoom.
The cost of the class is $129.99/family. Partial scholarships are available, upon request.
Try the first 14 days for free! You can see how it is run, learn more about the content, and then decide if you want to commit to the course. Email Betsy West to try the 14 days for free or to view a sample video.
Annual Membership - $129.99/family. Provides:
At home access to the nine class video lessons (for one year)
Member workbook for all nine lessons
Subscription to EveryDollar Plus, our premium budgeting tool
Access to additional full-length courses (The Legacy Journey and Smart Money, Smart Kids) and mini-courses (Jump Start and Budgeting That Actually Works)
BabySteps app for customized tips and to start crushing your goals
Registration ends Sunday, July 26th.