Virtual Summer in the Arts Camp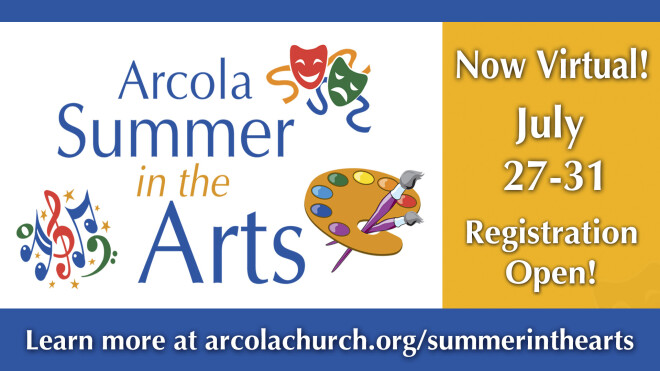 Daily from 07/27/2020 to 07/31/2020
This years virtual camp will usher in the fourth season of Summer in the Arts at Arcola, with community classes for children and adults! Our teachers are professionals in their area of expertise, and our staff supports arts education. There is an amazing line up of classes to explore the arts or to refine skills in a particular art form.
Hear more from your Visual Arts teacher, Keri Goodfriend, as she talks about her plan for the daily art classes!
Jennifer Worthington has more details about the dance classes!
Click here for details about all the available classes!
Grades 3-12
Cost is $100 per camper, which includes supplies for classes, all daytime interactive classes, and one optional evening elective. Camp will take place each day from 9:00AM-3:00PM.
Adults
New this year!

Adult Cost = $25.00 per class
For the first time, adults can choose up to four evening classes. Evening classes are taught in an interactive environment, and are offered for 30 minutes each between 5:00-8:00pm. Classes include a daily lesson for five days, and supplemental materials for further practice and study.
Please note: Instruments are not provided however, there are scholarships available! To inquire about an instrument scholarship, please contact Tianna Durbin.
*All online programs require internet access, a computer/tablet/ipad/smart phone with a built in camera and microphone.

** Our goal is to always create a positive, engaging learning environment for all. To achieve this goal, our teachers will closely monitor each person's learning progress. Every class will have a "virtual class assistant" to help troubleshoot any technology issues, and to monitor the successful progress of the class. We encourage parents of children and youth to discuss appropriate online courtesies before our camp week.