Virtual Vacation Bible School 2020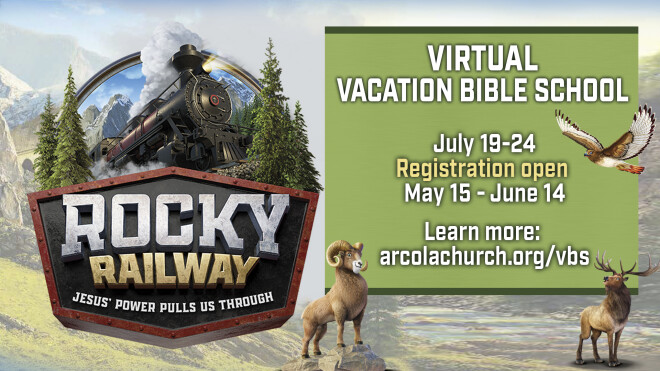 Daily from 07/19/2020 to 07/24/2020
Rocky Railway VBS is on a New Track this Summer
You may still register by emailing to be included with our interactive and relational activities the week of July 19-24. You will need to order your Stay-on-Track Student Pack directly from Concordia Supply company. The pack will be a little different from ours, but still contains the important items like the daily Bible Buddies, the Imagination Station Gizmos and the Bible Story Book.
VBS is going to look different this summer. But one thing remains the same: In rocky times like this, the message that Jesus' power pulls us through life's ups and downs is more critical for your kids than ever before.
We get that parents are overwhelmed.
We get that kids and parents miss connection.
We understand that kids and parents miss the sense of community that comes with VBS.
Our online VBS will be simple for families yet also interactive, engaging and relational. We will be using best practices for blending technology and hands-on learning to maximize the VBS-at-home experience.
VBS programs will run the week of July 19-24, 2020.
VBS Virtual Videos will premier the week of July 19-24, 2020 and can be accessed through September 1, 2020
Live interactive elements will only be available July 19-24, 2020 - these relational elements are optional
VBS registration is currently open until June 14.
Registered families will be able to pick up Stay-on-Track Student Packs the week before VBS starts. Dates and times will be shared with all registrants.
Stay-on-Track Student Pack - $19 per kid
Optional music - $7 CD or Digital Download Card
We recommend each child (3 and older) have their own VBS pack which includes:
Daily Bible Buddies and carabiner
Sciencey Fun Gizmos
Bible Story Book
Rocky Railway Bandura/Face Mask
Please contact with any questions.