No Sale, Yard Sale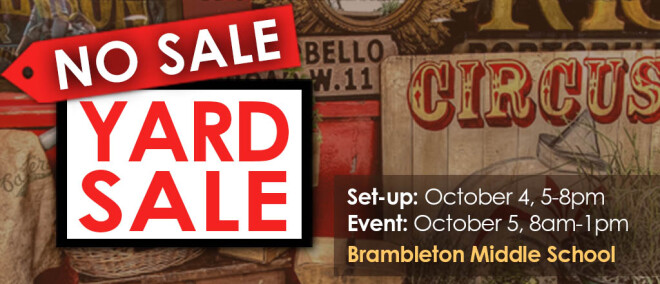 Saturday, October 05, 2019, 8:00 AM - 1:00 PM
No Sale Yard Sale!
Directly Benefiting Local Families in Need
It's time to clean out the closets (and cabinets, and basement...)
Arcola Church will be hosting a No Sale Yard Sale to directly benefit families supported by the parent liaisons at six local schools. Families will be invited to come and "shop" for items they need, but at no charge. We need your support – through donations and volunteering – to make this a success.
Items acceptable for donation: clothes, shoes, coats, toys, baby items, kitchen items, household items. Please ensure all items are clean, unbroken, and in working condition.
Items NOT accepted: furniture, TVs, electronics, books, bed pillows.
Donation Process:
Sign up for the type of items you will be bringing.
Pre-sort your items by gender, size, and type.
Bring your items to the Brambleton MS Main Gym on Friday evening and place in the appropriate areas.
Location: Brambleton MS main gym
Set up: Friday, October 4 from 5:00 - 8:00pm
Event: Saturday, October 5 from 8:00am - 1:00pm
Clean up: Saturday from 1:00pm - 3:00pm, and we will have a truck pick up left over items for donation.
Please visit the Signup Genius to donate or volunteer.
Email Carole Salgado with any questions.
.