Advance Directive Talk 9:15am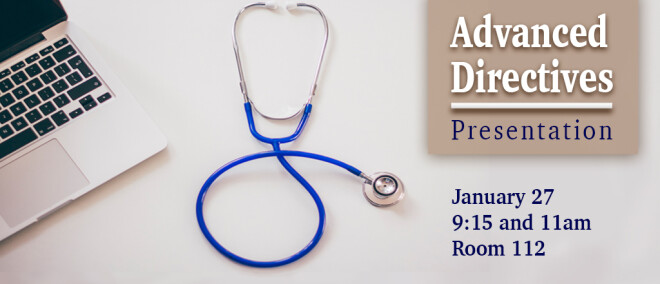 Sunday, January 27, 2019, 9:15 AM - 10:15 AM
Do you have an Advance Directive? Ever heard of a POST? What about a Living Will or DNR? What is a Medical Power of Attorney? Does your family know what your health care wishes are?
The choices you make today may play an important role in your plan of care tomorrow. In situations where a person is incapacitated and cannot choose their own course of medical treatment, family members may be put in a position to make difficult decisions on their loved one's behalf.
This presentation helps you better understand the options available and what role each of the above documents play in your health care wishes. By ensuring your wishes are executed, you can reduce the burden on your love ones.
Need Some Help Getting Started?
Please make a plan to attend one of these talks (at 9:15 or 11am) delivered by a Nurse and Licensed Social Worker with many years of experience in working with the aging population here in Northern Virginia, tackling tough care decisions with patients and family members.
Speakers:
Sharyn Casapulla, MSW, LSW
Currently a Geriatric Care Manager for LifeMatters, a Home Healthcare agency in Northern Virginia, previously a social worker and admissions liaison with Vitas Hospice.
Kim Brancato, RN, CDP
Currently the Director of Nursing with BrightStar Care of Loudoun County and Gainseville, VA. Previously Kim was the Executive Director of the Inpatient hospice unit at Capital Caring Hospice.
RSVP's appreciated but walk-ins are always welcome!