Summer in the Arts/School of Christian Rock Camps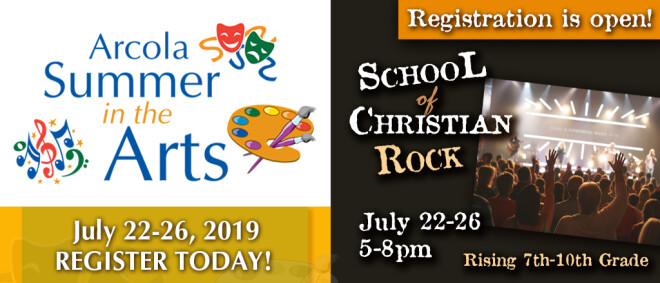 Daily from 07/22/2019 to 07/26/2019
Mission Statement
Arcola's Summer in the Arts camp is a place for children and youth who are rising 3rd grade through 10th grade to explore and refine various art forms. This camp offers a variety of large group performing arts to include: singing, drama, percussion, and hands-on practice with various instruments. Classes in visual arts such as drawing and painting are also offered. The camp offers small group instruction so that students can learn a new skill or refine a skill. Examples of classes include, dance, sound engineering, guitar & Ukulele, acting classes, show choir, and much more! An important aspect to this camp is its focus on the surrounding community—a place where all students in the community can come and be immersed in the arts. The camp is offered each summer during the 4th week of July.
Exploring the Arts Day Camp for Rising 3rd-6th Grade (9am-4pm)
This camp encompasses a variety of art forms and offers classes such as drama, art, singing, dance, drumming and more.
Musical Drama Camp for Rising 7th-10th Grade (9am-4pm) This youth camp will focus on drama and performing through script and music.
Day camp participants must bring a nut-free packed lunch each day.
Camp Fee: $175

School of Christian Rock Evening Camp (5-9pm)
Specializes in Christian Rock instruments for older students who currently play and have experience on acoustic guitar, electric guitar, bass guitar, drum set, and keyboard. This camp will also include vocalists who are familiar with Christian Rock music.
Ages are rising 7th-10th grades.
Camp Fee: $125
When registering, in the Comments field, please let us know any additional information you would like us to know about your child (i.e. favorite kind of music, loves to paint/draw, experienced actor, favorite hobby, etc.)
Notes:
There will be no refunds after June 24, 2019.
Our camps follow the Arcola church photo, video and media policy.