Vacation Bible School 2019 Day Session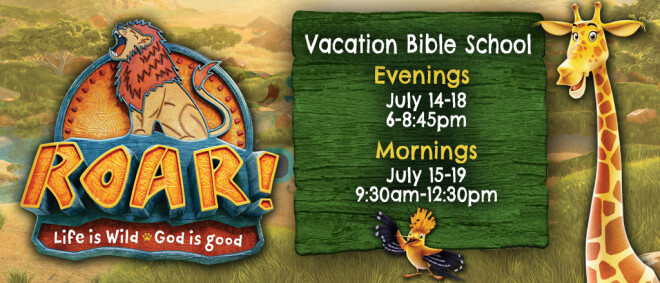 Daily, from 07/15/2019 to 07/19/2019, 9:30 AM - 12:30 PM
Registration is currently Open. Children of 5-Day Volunteers are GUARANTEED a spot regardless of waitlist status.
Daytime Preschool (rising PK4 and rising K) is WAITLISTED.
All other grades levels are OPEN.
Arcola has the mane event this summer! At Roar VBS, kids explore God's goodness and celebrate a ferocious faith that powers them through this wild life. This epic African adventure engages children in rising grades PK4 through 5. A whole herd of volunteers are needed - adults and youth (rising 6th grade and older), so come join the fun! (Nursery and special PK3 room free to children of volunteers).
Evening VBS, Sunday - Thursday, July 14 - 18, 2019, 6-8:45 pm (Free and includes dinner each night)
Morning VBS, Monday - Friday, July 15 - 19, 2019, 9:30 am - 12:30 pm ($45 per child )
Contact: Anne Moriak