Women's Spring Retreat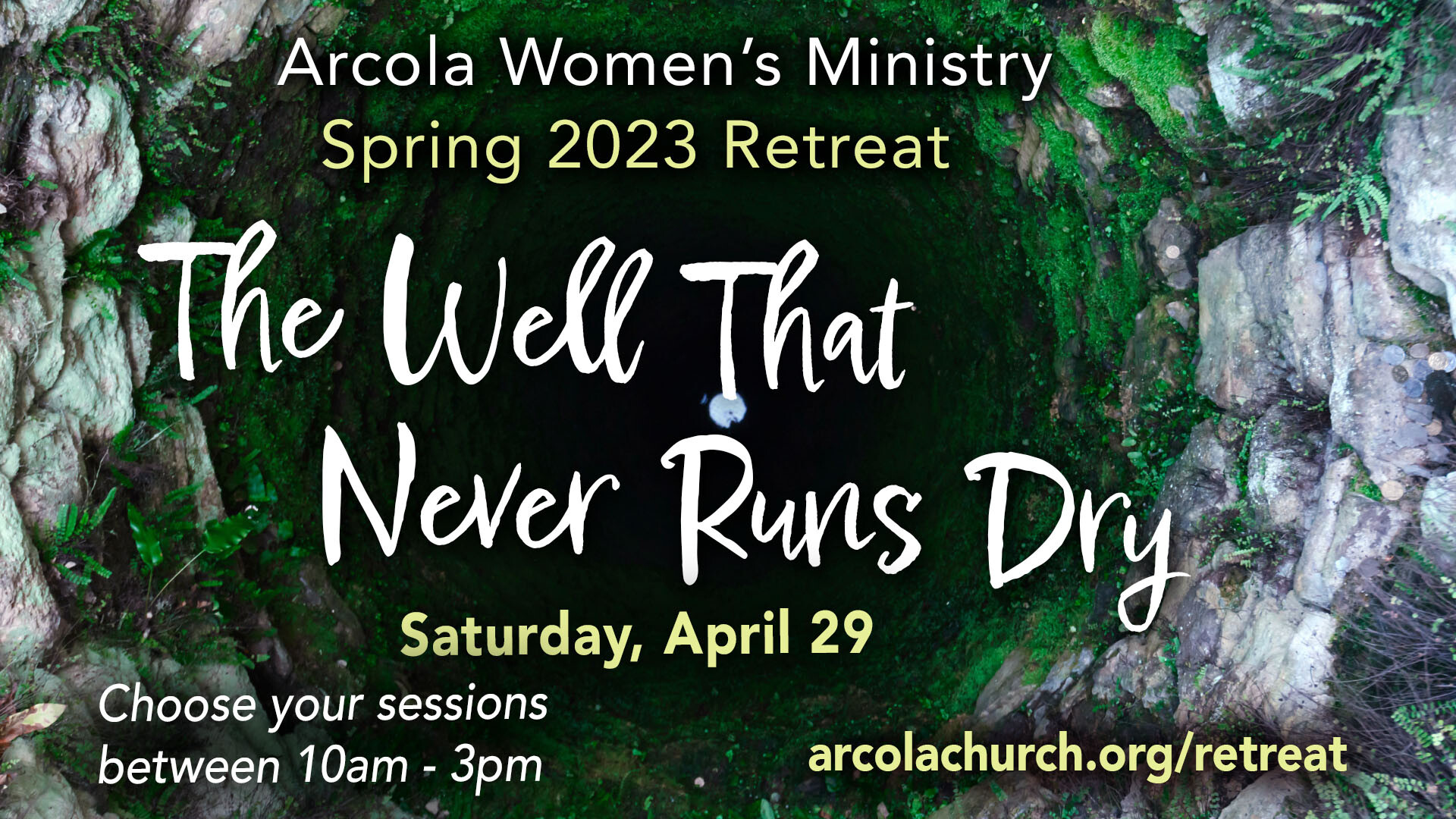 Arcola Women's Ministry
Spring 2023 Retreat
The Well That Never Runs Dry
Let God fill you with His love and fuel you
with His power.
You may be running on empty, but His
well will never run dry.
Attention Arcola Women - join us on Saturday, April 29, 2023 from 10am-3pm for a retreat to refresh ourselves, reconnect with each other and focus on our faith. The Well That Never Runs Dry will focus on refreshing our emotional, mental, and spiritual water tanks by allowing God's spirit to speak to us.

If you need childcare, it will be available, but requires registration by April 18. A suggested donation of $25 will cover your lunch, yoga and painting. An additional donation is suggested for childcare. The retreat is flexible, so you can come for as many or as few sessions as you would like, but we encourage you to gather for all sessions to get a fuller experience.

Retreat Schedule:
● 10:00 am - 10:15 am - Gather - childcare drop off, greeting, first session starts promptly at…
● 10:15 am - 11:15 am - Session 1: Down by the Well - Yoga & Baptismal Remembrance - led
by Rachel Kearse for all levels, gentle stretching and breathing - bring a mat/towel and wear comfortable
clothing. No sweating involved. Baptismal remembrance led by Betsy Hudson.
● 11:30 am - 12:00 pm - Session 2: Guest Speaker - Audra Weisberg
● 12:00 pm - 12:15 pm - Session 3: Drink from the Well - Mindfulness Walk - bring calm & focus back to God.
● 12:15 pm - 12:45 pm - Session 4: The Well That Never Runs Dry - Scripture Exploration
● 12:45 pm - 1:30 pm - Session 5: Lunch
● 1:30 pm - 3:00 pm - Session 6: Wet your Well - Paint & Sip - led by AUMC Heart & Soul Ministry -Keri Goodfriend - bring home your very own faith-filled creation while enjoying sparkling water and a sweet treat.

If you have any questions about the retreat, please email Betsy Hudson. We look forward to refilling our wells with you. Sign up for childcare ends May 11!
This event is now closed.