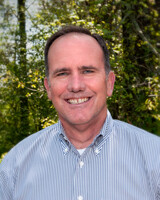 Pastor Chris Riedel
Lead Pastor
Office: 703-327-7878 x105
Mobile: 703-328-5161
Pastor Chris Riedel was born in Dayton, OH, the 4th of six children born to George and Elinore Riedel. He grew up in Northern Virginia and is a proud Robinson Ram. Graduating with an accounting degree from the best college in Virginia (which is in Blacksburg), Pastor Chris worked as a CPA for five years until the Tax Reform Act of 1986 and a call from God led him into ordained ministry. He served Bethel UMC and Centreville UMC while studying at Wesley Theological Seminary in Washington, DC. He has served Arcola UMC since 1995.
Pastor Chris has the great fortune of having been married to Julia Dedmond since August 10, 1985, and they rejoice over their four children: Ben, married to Jacki; Jessalyn, married to Adam; Emily, engaged to Nicolo; and Sam, married to Megan. Four grandchildren - Caroline, Oliver, Gwen and Jack - add to the joy. Julia is a school counselor with Loudoun County Public Schools.
Pastor Chris's favorite Bible passage is the 23rd Psalm, while a favorite hymn is "Let There be Peace on Earth". He cheers for America's Team in football and the current World Series Champion Atlanta Braves in baseball. Breakfast is not complete without Brown Sugar Cinnamon Pop Tarts and he believes with all right thinking people that Heath Bar Blizzard is the best.