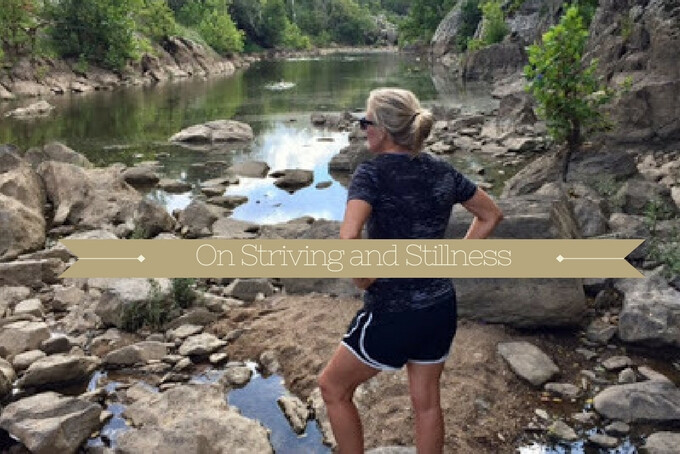 On Striving and Stillness
For me, September has always felt more like the beginning of a new year than has January. If you want to find me with my nose fully to the grindstone and my mind doggedly determined to make all things new - especially myself - you'll find that version of me in and around the first weeks in September.

The end of summer and the coming of September this year started with my mindset exactly as usual. And yet, for me, the close of this summer brought bigger changes than summers past. We faced the end of some things in our family life that have been so familiar to me, so routine and so reliably present that while the absence of them was certainly not unexpected, it was still fairly startling. At certain moments in the day, the new reality hits me so abruptly that I forget that I actually did know this was coming.

Acting as my very own over-zealous life coach, I told myself that all of these changes opened doors for me. I would bear less responsibility in a few areas and our schedule would open up a bit, thus increasing my chances to dream bigger dreams and commit to bolder actions. I wouldn't have to juggle too many sports schedules. I'd not miss a thing. But I found that as I faced the last few days of August, this annual, bright, positive attitude of mine seemed tinged with darkness. Just below the surface of hope was an underlying current of anxiety, urgency, and even fear.

My mind swirled with all the things I could improve in all the areas of my life. The time was now. The list of goals was long and lofty, running the gamut to include the ways I would make myself a better wife, a better mom, sister and daughter, a better friend, a better homemaker, a better Bible Study studier, a better cook, a better steward of our money, a better writer, a better every darn thing I could think of.

I would give up sugar and dairy. Or maybe wine and bread. But not diet Coke. Never diet Coke. I would seriously cut down on my time on social media. I would call my son, who is in his first year of college, exactly the appropriate amount of times during the week, so as to be supportive, but not helicopter-y. I would be a routine meal planner, a committed yoga practicer and runner, a consistent bed maker, friend caller and listener. I would search out more avenues for my writing. I would be bold and confident and make things happen. Let's get this thing started!

Two days into September, ready to take on the first baseball game of the fall season after being away from the field since July, we found that a day full of grey, pouring rain would cancel the whole tournament. Later that night, I blew off the no sugar/no dairy thing and ate a giant ice cream sundae. Three days in, I woke up with a pit in my stomach, missing the college boy we had dropped off three weeks ago something fierce. In the hours leading up to church that morning, I walked around with tears pooled just below the surface ready to break through at any moment. All my plans weren't working. I wasn't a new me. I was tired and discouraged and sad. I was weak, not brave. I wanted to keep everything exactly as it had been. I did not know how to do this new season. I didn't know where to start. My plan was a failure three days in.

Pastor Chris gave a sermon on prayer that morning. He emphasized the basics - talking with, listening to, and being with the Lord. He urged us to find time and a specific place where we can seek Him. He mentioned "thin places." Those places where, as Eric Weiner writes in Man Seeks God, "the distance between heaven and earth collapses."

I nodded my head, "Sure, Sure. Of course. Psalm 46:10: 'Be still and know that I am God.' Got it. Yea. I know that one."

After I returned from church, that lump still in my throat, those tears bursting through, my husband announced that today all four of us were going hiking at Great Falls Park. I nodded. That's fine. Whatever.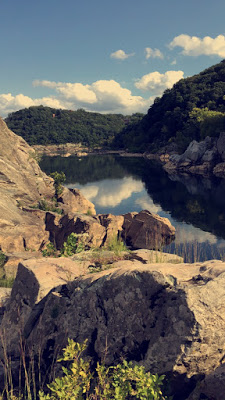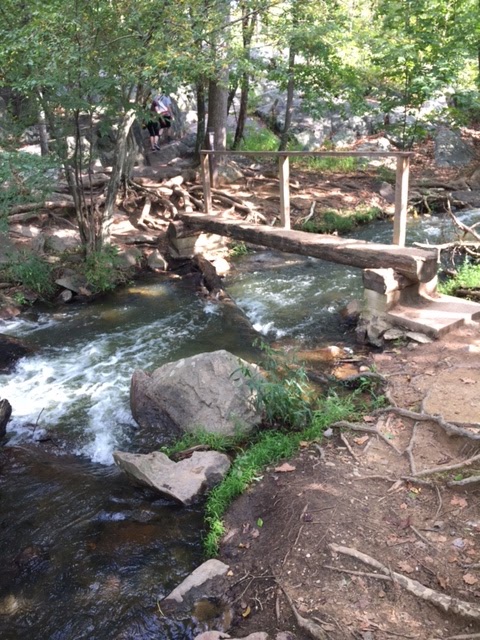 For three hours my two youngest boys, my husband and I hiked across boulders and tree trunks and bridges and slopes and rocky trails. It was infinitely more challenging than I expected. For three hours, all of my September plans and all my failures floated out of my head. My mind was virtually blank of anything except the thought of where to place my foot next. Should I step on that rock or that one? Should I use my hand to pull myself up? Should I scale that area sideways or go down backwards? Was my knee actually going to completely blow out at any moment?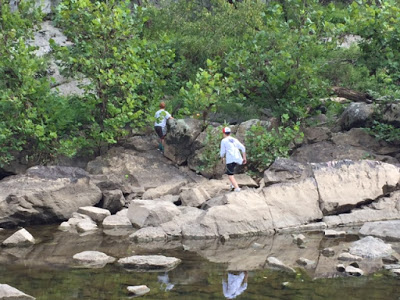 At one point as I was trying to heave myself over a very large boulder, I found I couldn't reach the top of it to get a good grip. I could feel the shame and anger creeping up into my previously blank mind because my strength was not the issue. It was just that my arms were too short. I sat staring at it for a bit until a young man coming the other way offered me his hand to pull me up. I didn't want to take it. I mean, I could figure this out, right? I wanted to do it on my own. I just needed a second to determine how to make my arms longer. (Of course. That makes perfect sense.)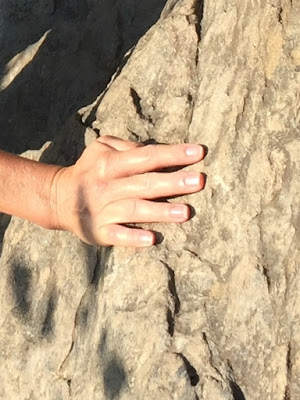 I did, of course, take his hand and made my way over, thinking of a quote a Bible Study mentor of mine had once mentioned to me. A sweet, wise older woman called Ms. Faye said, "Child, your arms are too short to box with God."

In Considering the Lilies, Elizabeth Foss writes: "The NASB translation of Psalm 46:10 tells me to stop striving and know that He is God. Striving: that tendency to put forth a great deal of effort trying to get everything perfect. Striving depletes us. The best striving - our most earnest efforts - should be for seeking God. Your best efforts at excellence are all for naught if you are not earnestly endeavoring to seek the face of God."

In all of my goal setting and planning and gumption, I had not once sought the will of the Lord. I had not looked for Him. I had not set aside a space to see what it was He wanted for this season of my life. I had set my mind to striving so much with my own human effort that - just as I had when facing that tall boulder - I was not only willing to ignore His help, I was even willing to reject it.

And suddenly, about half way through that hike, I realized that I had stopped striving to do this on my own. Along with grunting and panting, I was chanting over and over in my head, "Order my steps, Lord. Order my steps, Lord. Order my steps, Lord."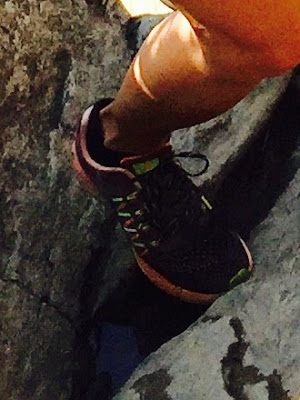 And so it was that in a place where the space between heaven and earth was incredibly thin, I found myself seeking His face. I found myself letting go of my will power. Ironically, although my body was in constant motion, my mind was still. I realized that the fact is that I am weak and I do not have the power to make all things new.

And I wasn't remotely sad or angry or disappointed about that fact. I was deeply, deeply relieved. I was so grateful. I was so at peace. Because when I looked up every once and awhile, panting and sweaty, I realized that I had found peace and gratitude and grace.

I had sought Him. And I had found Him. I found Him everywhere.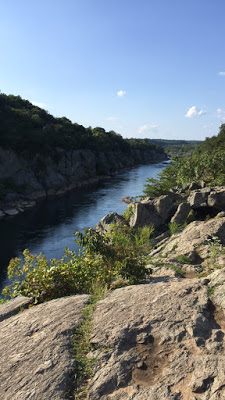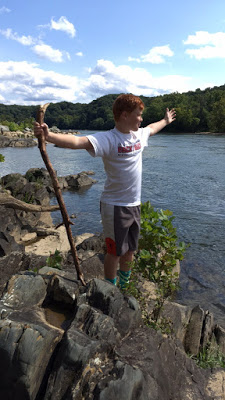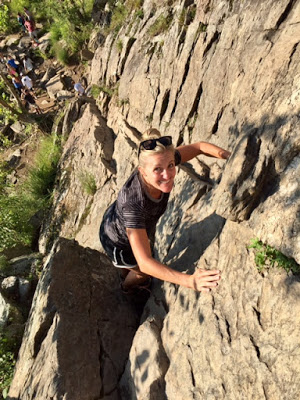 And your ears shall hear a word behind you, saying, "This is the way, walk in it," when you turn to the right or when you turn to the left."
-Isaiah 30:21
Written by Jennifer Skinner, member of Arcola Church and a Texan (Texas Longhorn to be specific!) living in beautiful Virginia with her very patient, funny husband, and three very impatient, funny boys/ball players. She is also a blogger,
The View From Behind Home Plate
, who writes about finding extraordinary grace and blessings among the cleats and dirt and testosterone that fill her ordinary days.