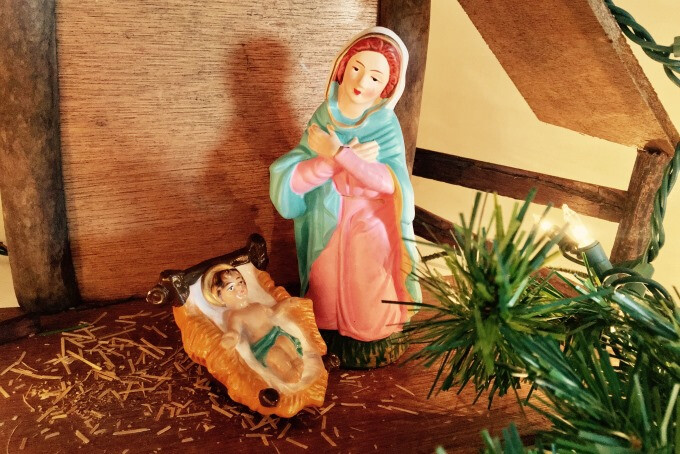 Mary the Brave by Dave Humphries
"Silent night, holy night, all is calm, all is bright round yon virgin mother and child. Holy infant, so tender and mild, sleep in heavenly peace, sleep in heavenly peace." These words were coined by Josef Mohr, an Austrian Priest. A beautiful song (one of my favorites). I hear the tune and think of the beautiful manger, the one of a kind feeling you have as a new parent. It leaves me forgetting that in many ways Christ's birth was not a silent night. The Bible says, we have Mary a young teenage mother who, under Palestinian law, can be put to death. She is poor, unmarried, and a refugee with a new born baby who has a death warrant – and she could not even opt for an epidural!
Mary is also a brave disciple -- more than Peter, Simon, James or John – she exhibited a loving faith in the Messiah. Before water was made into wine, before the sick were healed, before the ministry to thousands, there was one follower. The next 30+ years of Mary's life were not easy or convenient, but she lived a life of service, love, and discipleship until the very last breath was taken on the cross in Golgotha.
Going into museums you will see paintings illustrating a young mother and child. Mary has an angelic smile and her hair is perfectly kept. One thing the artists fail to illustrate is Mary's heart of service. Being an unmarried teenage mother, the best case scenario was that she had shamed her family and her reputation. The worst case was being put to death. Selflessly putting a greater good ahead of her own safety and reputation, she responded, "I am the Lord's servant, may your word to me be fulfilled." (Luke 1:38).
God does not promise that life will be easy, but he does promise that in the midst of the animal dung and the noise and the disappointment, He is at work! Think about it: if all were calm and bright in the world, Christmas wouldn't be necessary. Christmas came because the world is broken.
In our current culture, are we really silent? Do we recognize the need of others? Who are the everyday Mary's? They are those people that provide comfort while putting themselves second for the betterment of a child, nation, or community. Here is my list of those that provide comfort: firemen, teachers, police and our soldiers. What Mary exhibited is called servanthood, it is not easy nor is it possible to do it half-heartedly. It can involve risk, and discomfort, and can be scary – it is also the narrative of a great mother, woman, disciple who saw God's divine plan put into motion through her servanthood and faith.
Yes I enjoy family, friends, special meals, the music of the season, movies and laughter during Christmas. But I must remain cognizant that because of Christmas I am a recipient of God's grace. I hope that during this Advent season I can demonstrate some servanthood and grace in hopes of having the Christmas story become a living story in our church and community. It may look like the Angel Giving tree in the church lobby or maybe it is the Salvation Army, carolers, or volunteering at a food bank. Regardless, where you see giving, joy and comfort this season, it is a celebration of God's love in which we have been given an extraordinary blue print on how to display that courage and love from an extraordinary woman.
Written by Dave Humphries, Youth Lay Speaker and Congregational Care Minister at Arcola Church. Dave helps lead worship, preaches at the youth services, assists with small groups and fellowship events, is a congregational care minister, and enjoys fellowship with the Arcola men's group. He is currently taking classes at Wesley Theological Seminary and during his free time Dave loves spending time with his family Katie, Hadley and Anna Grace and his golden retriever Peyton.