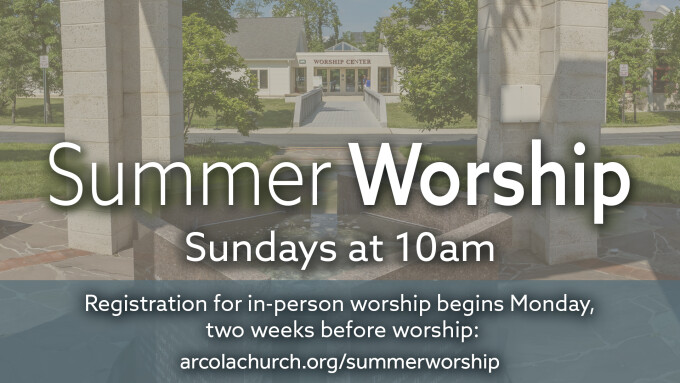 Summer Worship 2021
We're excited to move to a hybrid model of worship this summer, as we're able to continue worshiping online while also opening the church building for limited, modified in-person worship. No matter how you choose to attend, we'll worship together as a community with the same music, worship elements, and message. That same Holy Spirit who has danced around us during our year of pandemic will continue to dance around us as we move forward into a new season of vaccinations and phased reopening.
Each week, registration opens two weeks prior, and closes Saturday at midnight.
Worshiping Online and In-Person
Whether you attend worship online or in-person, we'll all receive the same message and enjoy the same worship experience.
We'll continue to stream our worship services at https://www.arcolachurch.org/live and on Facebook at http://facebook.com/arcolaumc.
In-person attendance is limited, and registration is required. Registration for in-person worship opens the Tuesday prior, and closes Saturday at midnight.
When you attend worship in-person, you'll be seated in the lobby/narthex, physically distanced from family groups around you. You'll watch the Worship Team on the screens as they perform from the Great Room, and Pastor Chris will preach in the lobby/narthex. Masks are optional for worship. We will not ask for vaccination cards or ask if you have been vaccinated but will take the honor system approach. Please stay at home if you are sick, and, unless you are fully vaccinated, self-quarantine if you think you may have been exposed to someone with COVID-19 within the past two weeks.
For Children
When attending in-person, nursery care is available for ages birth-3, preschool aged care is available for ages 3-5, and Children's Worship is available for grades K-5. Registration is required (on the same form as general worship registration) and space is limited. You will check in your whole family at the Worship Center entrance, then take your children to the nursery, preschool, and/or Children's Worship, and return to the lobby/narthex for worship. Masks will be required around all children.