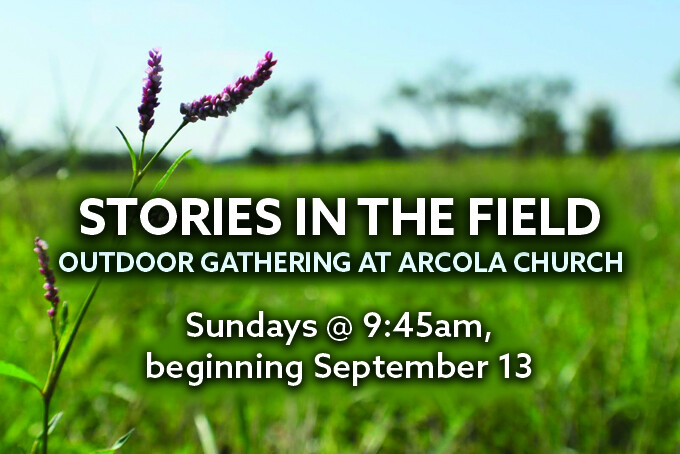 Stories in the Field
While we're continuing to worship together virtually, we're also creating opportunities for in-person activities! Arcola's Grow Ministries is hosting outdoor Stories In The Field on Sunday mornings, as an opportunity for you and your family to gather in-person (with precautions!) and connect with other members of our community. The event is multigenerational, and geared toward families with children, with Bible stories, prayer, listening to music, and participatory activities, with something for everyone. Bring your camp chairs, blanket, and masks, and enjoy the weather and time together!
Stories in the Field begins Sunday, September 13 from 9:45-10:30am, on the field outside Ruth Hall.
Details for attending Stories in the Field
Our highest priority is the health of our Arcola family, and the Bishop of the VA Conference of the UMC feels the same. Please review our process for gathering at the church, including Stories in the Field.
As you arrive, put on your mask. Masks help keep us safe, and whenever at AUMC we will wear masks. Please keep your mask on from leaving the car until returning to your car.
Pay attention as you leave your car, making sure to maintain 6 feet from anyone not in your household. This is important when walking to the field and back again later.
At the field, we will have posters reminding everyone that by attending, each person agrees that they are healthy, and that they will follow the safe gathering practices. Specifically, we will accept and attest to the following:
No one with a fever or symptoms of COVID-19, or known exposure to a COVID-19 case in the prior 14 days, is allowed to attend.
Individuals attending will be asked when they arrive to verify the following:

That they have not had COVID-19 symptoms within the previous 14 days
That they have not been in contact with anyone experiencing COVID-19 symptoms within the previous 14 days
That they have not tested positive for COVID-19 and are not awaiting test result
That they will notify Betsy Hudson should any of the above change
We will record that you as an individual, or your family, has attended for contact tracing purposes. If you are new to Arcola and not in our REALM database, we will gather your information.
You will be directed to the field, to place your blanket 6 feet from the nearest blanket. We will seat from left to right, front to back. Please stay on your blanket, in your chair or seated/standing on the blanket, during the gathering.
The experts tell us that singing is a high-spread activity, so we will not sing. We will listen to music, and can clap our hands and dance, on our own blankets!
Stories in the Field will be an interactive experience, and we will offer opportunities to get up and move around, shout out answers, and engage the story. Please make sure that everyone coming with you understands that we must stay on our own or family's blanket and keep our mask on while we are there.
With such a short program, the building will not be available for bathrooms. Please plan accordingly.
For more information on Virginia Conference guidelines for regathering, please visit VAUMC.