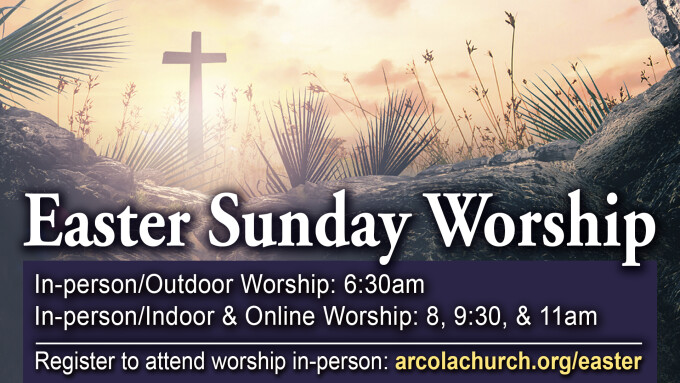 Lent and Easter 2021
Journey through the Lenten season to the victory of Easter with Arcola Church.
Easter Worship
In-Person, Outdoor Worship:
6:30am Sonrise Service
In-Person/Indoor, and Livestream Worship
8, 9:30, and 11am
Click on the worship time for more details and to register to attend worship in person!
You can also watch a video about what to expect when you arrive for in-person worship.
Special Worship Services
Ash Wednesday Online Worship
February 17, 7pm
Ash Wednesday marks the beginning of the Lenten Season and paves a pathway for each of us to take A Journey to the Cross. Join us for worship to focus on Prayer, Repentance, Dust, and Commitment to the spiritual practices of the Lenten Season.
Palm Sunday Online Worship
March 28
8:30am: Led by the Children's Celebration Choir
11:00AM: "A Journey to the Cross" choral cantata presented by the Alleluia Choir, with a special performance by the Elevation Dance Ensemble
Holy Thursday & Good Friday Online Worship
April 1, 7pm
Easter Events
Our multi-generational Easter Story Walk will have you travel with your family group along the path, visiting the stations and collecting Resurrection Eggs that will tell the Easter story!