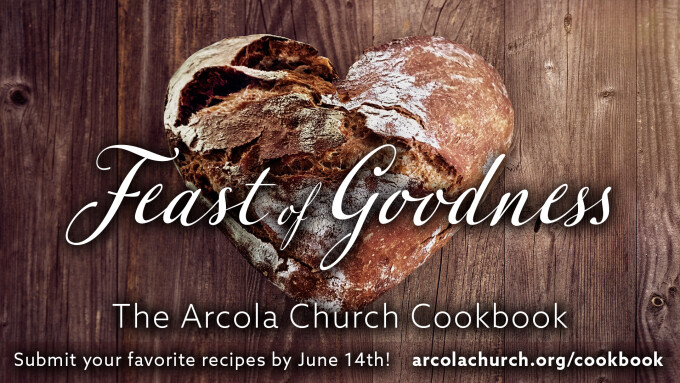 Feast of Goodness: Arcola Church Cookbook
Arcola Church is compiling a wonderful new custom cookbook featuring all the best recipes from our congregation. The cookbook will be professionally produced and is certain to be a welcomed addition to your kitchen.
To be included in this cookbook, please share up to five of your favorite recipes. Your name will appear alongside each of your recipes. Recipe writing formatting rules, tips, and abbreviations are provided below. You may type recipes using our online fillable form, or you may hand write them using the standard form.
Once written, submit recipe forms as email attachments (PDF preferred) to . You may also drop your recipes off at, or mail them to, Arcola Church, 24757 Arcola Mills Drive, Dulles, VA 20166. All recipes must be received by June 14, 2021, for inclusion in the cookbook. Please direct questions to Peggy Fridley at .
Thank you for taking part in this exciting project! We will begin taking orders for our new cookbook in mid-June. Watch for details! Proceeds will assist the Women's Ministries of Arcola Church.
Recipe Writing Instructions
Print neatly and legibly in ink, not pencil.
Write only one recipe per submission form.
Write only on the front side of the submission form. If more room is needed, use the continuation sheet and staple pages together.
List all ingredients in the order of use in the directions.
Include container sizes, e.g., 2 (8-oz.) cans.
Include baking/cooking times and temperatures.
Write directions in one paragraph. Do not submit recipes in steps, columns, or charts. Recipes which do not conform to the recipe format will be omitted.
Use the names of ingredients in the directions, e.g., "Combine flour, sugar, and salt." Do not use statements like, "combine first three ingredients."
Do not include brand names or trademarked words in ingredients or title.
As there will be an index of contributors, be consistent in filling out your name for each recipe you contribute. (Pick your preferred format: William Smith vs W. Smith vs Bill Smith) Only contributor names will be printed in the cookbook, not phone numbers. Phone numbers are for us should we have a question about your recipe prior to print.
Proofread your recipes to ensure you have included all ingredients and directions.
Abbreviations
c. - cup
pt. – pint
tsp. – teaspoon
T.– tablespoon
lb. – pound
doz. – dozen
env. – envelope
pkg. – package
oz. – ounce
gal. – gallon
opt. – optional
reg. – regular
qt. - quart
lg. – large
med. – medium
sm. - small
ctn. – carton or container