Filter By:
Grouped by: Events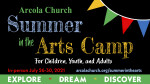 Summer in the Arts Camp is back for 2021!
Our annual angel ornament crafting is happening virtually this year!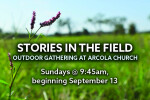 Arcola's Grow Ministries is hosting outdoor Stories In The Field on Sunday mornings, as an opportunity to gather in-person before or after worship, to stay physically distant from, but socially connected to, your Arcola Church family.