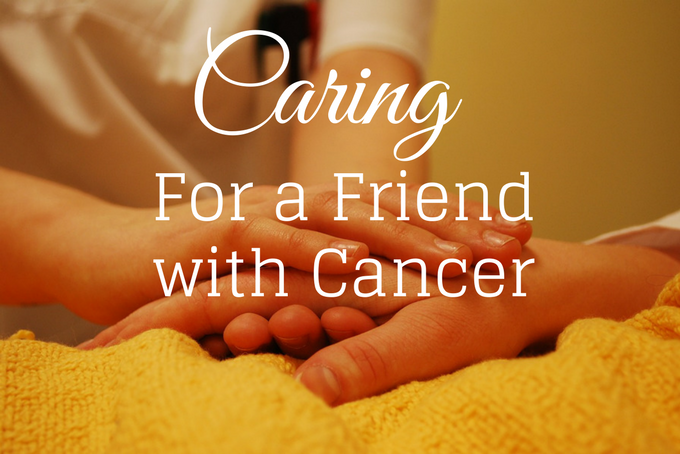 Caring for a Friend with Cancer
Yesterday, I drove yet another friend to a doctor appointment because she was diagnosed with cancer. Over the past two years, many of my friends, people in my community and church have been diagnosed with that ugly 'c' word. As a Congregational Care Minister, I've been asked many times about how people can help a friend with cancer. Here are my top suggestions:

1. Be supportive. Being supportive means acknowledging the person with cancer. Call, send a note or a text. Let them know you are thinking of them and praying for their healing. Check in often, but do this without expecting a response in return – by this, I mean, that going through chemo really is tough and sometimes there is no energy left to return a phone call or respond to a text immediately. Tell stories of hope – avoid stories where someone has gone through cancer treatment and not survived (not helpful!). Some people appreciate prayer, others appreciate gifts, jokes and/or funny cards. Most importantly, be there and show you care. When you do show up in person or talk on the phone, let the person with cancer guide the conversation – this is their time and if they need to talk, let them. You listen.

2. Do something to help ease the burden. If you are a take charge type person, do it. Set up a system for others to help. Your friend will need help with driving, meals, visits, pet-sitting, childcare, household chores and even someone to be an extra set of ears at appointments. Here are some of my favorite websites to help coordinate efforts: My Cancer Circle, Caring Bridge and Take Them a Meal (see #3 and food preparation guidelines). If you are a doer, then sign up after the organizer has posted the needs or just show up and visit, send card or drop off a small gift. And don't expect anything in return, the thank you notes and return texts/phone calls may not come immediately – be patient and don't put pressure on someone with cancer or someone caring for someone with cancer.

3. Provide safety and care: A person who is undergoing treatment for cancer has a compromised immune system. Therefore, it is so important that when you visit, you are healthy and have not been around anyone who is sick. Also remember to wash your hands (wrists and fingernails) for 30 seconds and/or use hand sanitizer before you visit with your friend. Do this when you leave your visit as well – keeping you safe as well. In addition, most cancer patients can't accept flowers or plants because of the fungus that can sometimes be lurking in the soil or flowers. Balloons are usually a good alternative.

Visiting hours at the hospital are posted for a reason. Don't show up after visiting hours. When you do visit, keep in mind that your visit should be short. I tell our team of Congregational Care Ministers to visit with folks for 15 minutes or so; however, close friends can probably stay longer, perhaps an hour. But remember that your friend is in the hospital to get treatment and rest, so don't overstay. Lastly, be prepared to leave the room if the patient needs privacy. Your friend is very vulnerable at the moment – help them keep their dignity intact.

For food and food preparation, be sure you and people in your home are not sick. Make a home-cooked meal, rather than takeout. Be sure to wash fruits and vegetables and try to use organic meat and whole grains. Avoid sugar, alcohol and sodas.

4. Be prepared to listen to some tough topics. Your friend is scared and a lot goes on in a person's mind when they are scared. Accept where they are and let them know that it's OK to be 'down' – cancer is awful and it is hard to be upbeat. Remember to be a friend that doesn't pressure that person to be cheerful – when frankly, they are not.

One frequent thought your friend may have is the possibility of death. Be prepared to listen to your friend's concerns (only if they bring it up) and do not dismiss this conversation – it's good for both of you. If asked, share what you believe. I, for instance, believe that God has prepared a room for me in heaven and I will go there when I die and I will be greeted by those that went before me. Other times, your friend may have concerns about their will or finances and may want to seek out an estate planning attorney or financial planner. These things are normal, do not fear, just be an ear – oh and help them find a good estate planning attorney if they ask for your assistance. For those that live in the DC area, ask me, I can refer you to some good ones.

5. Help financially, if needed/accepted. Cancer treatments are expensive -- even with insurance the financial burden is overwhelming for some individuals and families. Elect someone to ask the friend or family if they need financial assistance and if they do, have one person be the gatekeeper for all fundraising. Many people opt to set-up a webpage on Go Fund Me. Other times, people will sell t-shirts, do bake sales, golf tournaments, etc… just be sure it is not overwhelming to the family or friend. Talk with them and be sure they are comfortable with the fundraising efforts and all the exposure it will draw.

6. Stay the course. Cancer treatment can last a long time. When my friend's son was diagnosed, his treatment lasted over a year. Trust me, the longer the course, the harder it is for your friend and their family. Continue to make an effort by calling, texting, inviting them over, sending cards or surprising them with a gift that you leave on their front porch. Be the face of hope and grace. Share your love. Pour out your compassion. Pray without ceasing. Let it be known that you care.
Written by Lisa Korhnak:
Lisa directs all communications activities and 15 care ministry programs at Arcola Church. Her goal as Director of Caring is to help others feel connected to each other, to God and to feel comfort when times are tough. In addition to her leadership as a director, Lisa is a congregational care minister and lay counselor -- providing support to those in need of hope and healing.