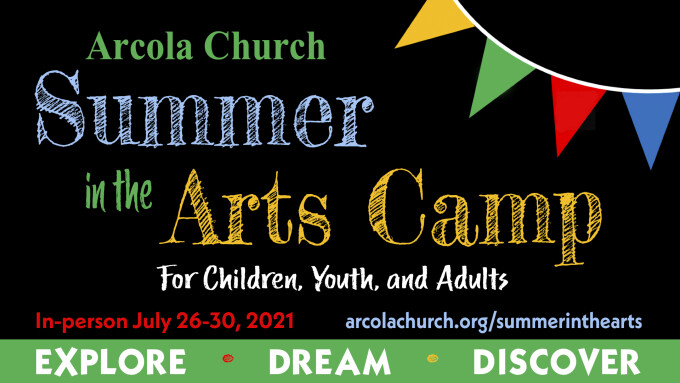 Arcola Church Summer in the Arts Camps 2021
Arcola's Summer in the Arts camp is back and in-person for children, youth, and adults! This camp offers a variety of performing and visual arts activities and classes in full-day, in-person camps for rising 3rd-10th graders, plus evening classes for older youth and adults. An important aspect to this camp is its focus on the community—a place where all students, regardless of affiliation with Arcola Church, can be immersed in the arts.
Exploring the Arts Day Camp
Grades 3-6
Camp participants will explore the basics of performing and visual arts through core activities in art, rhythm, voice, and chimes, with the opportunity to choose their own electives. Electives include options like drama and strings.
Musical Drama Day Camp
Grades 7-12
This year's drama camp will feature a full performance of an original production, "Locked in the Library." As students explore some of Broadway's best known literature turned musicals, they'll also integrate all the elements of showcasing an original musical theatre production.
Evening Adult Classes


Our newest camp for adults who have always wanted to grow in their artistic and musical abilities. Classes include art, beginning/intermediate guitar, "Everyone Can Sing", Basic Music Theory, The History of Music in the Church, beginner cello, and more!
electives for daytime camps
Registered campers will choose their electives in June, but here's a sneak peek!
Meet the teachers
Summer in the Arts is proud to have a staff of professional musicians, artists, and teachers. We'll feature several of them below, so you can meet your instructors!
Carrie Albers - Strings
Carrie is a new instructor this year, as we introduce a strings bootcamp and beginner cello for adults to our Summer in the Arts classes and electives!
Keri Goodfriend - Art
Exploring the Arts (3rd - 6th grade) campers will be creating art with Keri as they explore the theme of "What a Wonderful World" - plus she's introducing new techniques and electives, including batik and photography with smartphones!
Bev Sharrard - Adult Painting
Bev is excited to teach an in-depth, 4-day adult acrylics class, complete with color theory and guidance with creating your own painting by the end of the week.
Allison Kipp - Choir
Allison is looking forward to teaming up with our Exploring the Arts campers for outdoor singing, as part of the core classes in the camp.
Camp Counselors
Summer in the Arts Camp is also looking for volunteers for Camp Counselors and Clean Up Crew! Older high school students and college students home for the summer are welcome to volunteer! Camp will take place July 26-30 from 9am-4pm. If you are interested or have more questions, please contact Tianna Durbin.
We are aware that protocols for summer camps will be updated in the coming months, and we plan to follow all guidelines for distancing and cleaning. If necessary, the number of registrants for the camp will be capped.
Please note: Camp and instrument scholarships are available; to inquire, please contact Tianna Durbin.