Monthly Marriage Spark for May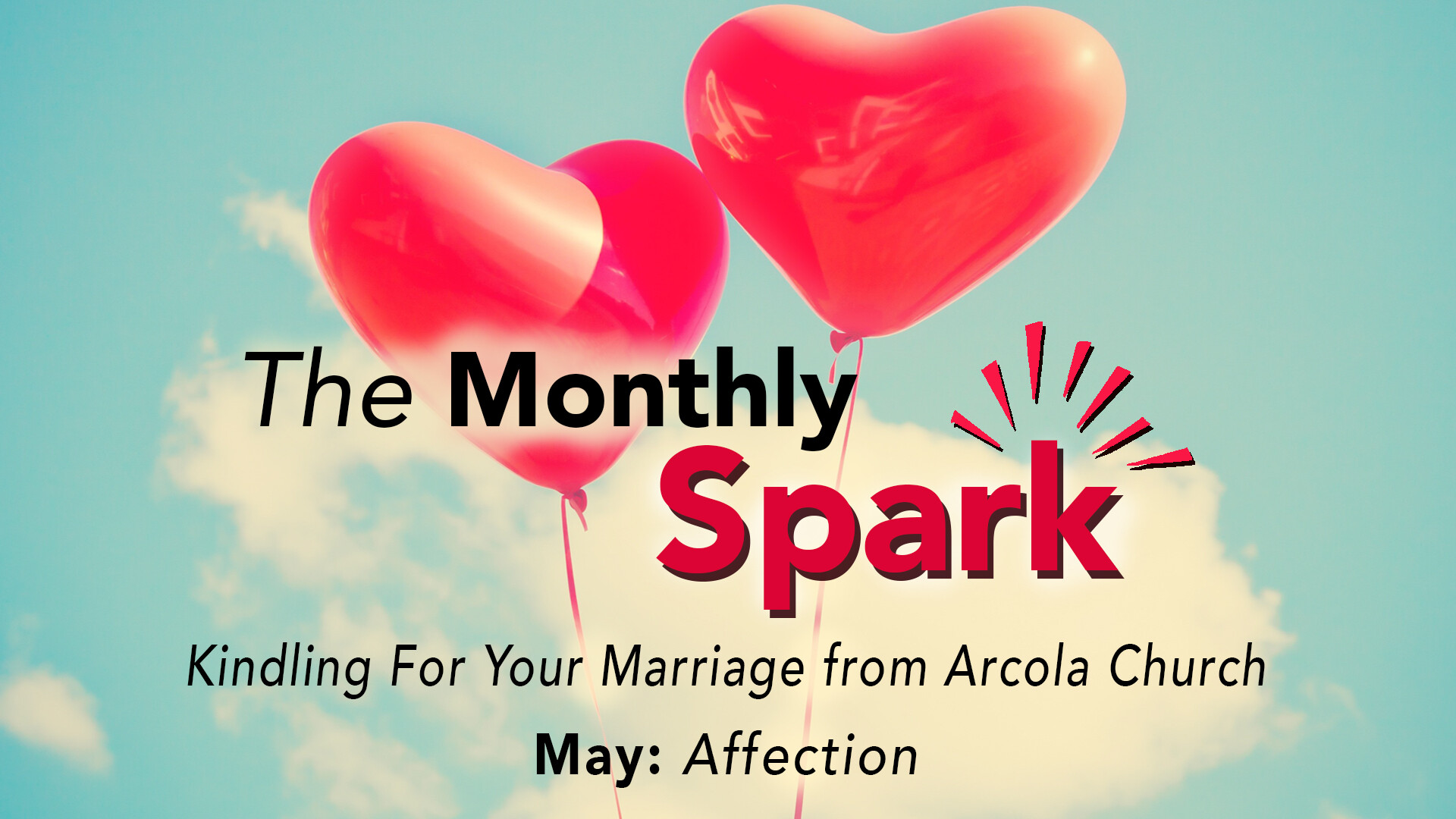 The Monthly Spark for May, 2022 - Strengthen your Relationship thru AFFECTION
Does your relationship need a spark? Would you like to learn some new ways to reconnect with yourself and your partner? The Monthly Spark will help you do just that.
Each month several items will be listed like an article, podcast, book, meditation, exercise or game that pertains to relationships or marriages that can help to rekindle connections. Enjoy! Be curious!! Try something new.
There are common themes in every unsuccessful marriage: resentment, blame, indifference. But there are commonalities in the successful ones, too. Each month we will focus on something that sets happy couples apart.
May – AFFECTION Make time to show affection to each other every day.
It's obviously important to love your spouse. But you also have to like them. Even more important, let them know that you like them. People like to feel liked!
Affection is easy in the beginning. You're infatuated and in love and can't get enough of that person. But over time, our affection naturally dwindles. The key is to find ways to hold on to it.
It can be helpful to look at your own relationship and consider if you have enough healthy qualities like trust, respect, support, and honestly. If you have these qualities, it will be much easier to keep that spark going.
Spark 1. Keeping the Spark in Your Relationship
Let your partner know what type of affection makes you feel loved and ask them to share as well. Continue expressing how much you mean to each other with different types of affection. Showing affection is an important part of maintaining intimacy and there are many ways to show them that you care.
What are some different ways to show your love? Following the Five Love Languages book-
Verbal affection: I love you, thank you ….
Love notes- on post its or leave it on the bedside table or text
Sweet gifts: Flowers, books, chocolate (personal fav)
Lending a hand: wash the dishes or wash her car..
Physical Touch like little kisses, hugs, cuddle, hold hands or sex.
For more ideas- look at this article: https://dating.lovetoknow.com/relationship-advice/how-show-affection-relationship
Spark #2 What does God say about love and affection?
"Be devoted to one another in love. Honor one another above yourselves." "And over all these virtues put on love, which binds them all together in perfect unity." "Be kind to each other, tenderhearted, forgiving one another, just as God through Christ has forgiven you."
SHOW GOD'S LOVE BY LISTENING
It is rare for people to feel truly heard.
Commit to slow down, ask questions, and really listen to people. Listen to understand, not just to prepare your response. Allow people to speak their mind without interruption or judgement. People will feel valued (and loved!) when they are heard and understood.
SHOW GOD'S LOVE WITH GENEROSITY
Can you think of a time in your life when someone showed you such generosity that you still think, "Wow, I can't believe they did that for me?" You probably felt loved. You felt seen. You felt valued to the point that you still remember that act of generosity.
When we love someone, we give to them. That loving characteristic comes from God! After all, John 3:16 says, "For God so loved the world that he gave…"
SHOW GOD'S LOVE WITH ACTS OF KINDNESS
Showing kindness means thinking about the other person more than you think about yourself. What are their needs? What would make their lives better?
It doesn't have to be huge, but it should be thoughtful. Being thoughtful and kind communicates to the other person that you value their needs above your own.
Selfless love comes from God. 1 Corinthians 13:5 says that love "is not self-seeking."
Practice being others-focused. Show God's love with acts of kindness. Looking for ideas? Here's a huge list of Acts of Kindness.
SHOW GOD'S LOVE BY PRAYING FOR OTHERS
Pray for your partner! Yes, pray for them in your own time with God, because God hears our prayers. But, also pray for them when you're with them.
One of the easiest ways to show love and concern is to pray with someone right then and there. In any conversation, at any time, simply ask, "How can I pray for you?" especially if they mention they're sick, stressed, or excited. And then pray with them. Show them love and genuinely pray for their needs or thank God for their good news.
https://www.askaboutmyfaith.com/show-gods-love-to-others/
Spark #3- Bonus:
Look over this article about Share Fondness and Admiration by Zach Brittle. What is limerence? And why does it fade away and what is it replaced with?